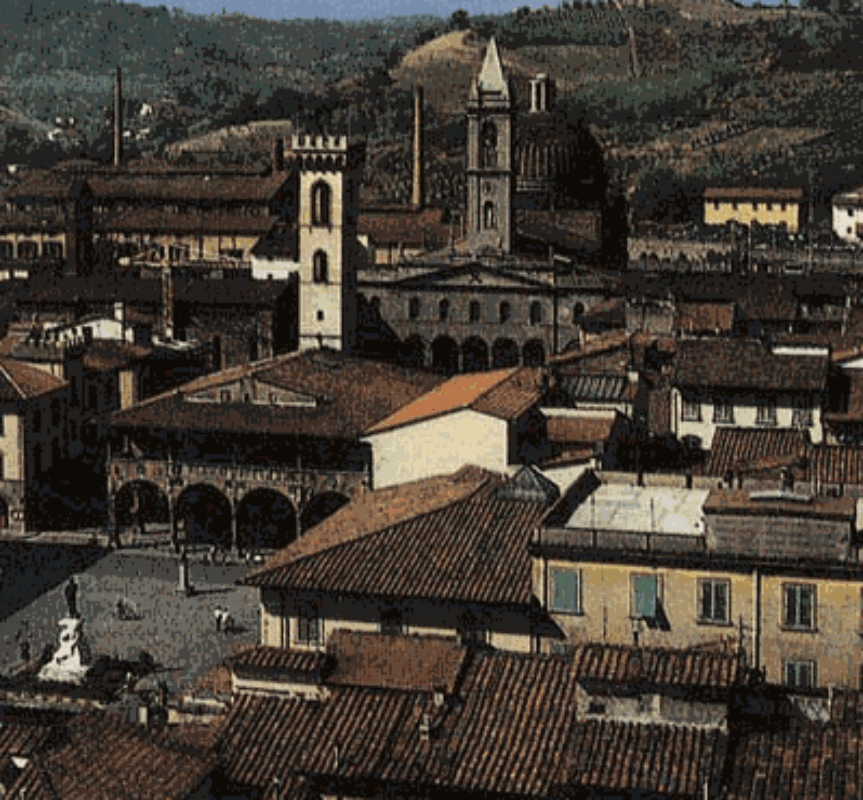 Hamlets, districts and squares
Piazza Cavour
Palazzo Pretorio, Palazzo Salviati and the Church of San Giovanni Battista can all be admired in the square
Palazzo Pretorio, better known as Palazzo d'Arnolfo from the name of the architect Arnolfo di Cambio, as Vasari explains, is situated right in the centre between the two main squares, Cavour and Masaccio, overlooking the main road of the town-centre, Corso Italia. The mediaeval design was re-arranged as early as the fifteenth century. The palazzo houses some municipal offices and art galleries. The ground floor is enclosed on all sides by a large arcade with four arches on the façades and six at the sides, regularly marked by octagonal columns decorated with coats of arms of the dominating town (the Florentine lily) and the Guelph eagle.

In the entrance-hall a statue can be admired, on a high stone pedestal that represents the dominion of Florence: a seated lion that bears with its paw a shield stamped with a lily. The original has been substituted with a copy and is conserved inside the palazzo. On the walls of the entrance-hall there are fifteenth-century frescoes and painted coats of arms. The facades of the first floor have two open arcades with columns and capitals in Renaissance style. From the centre of the back wall there emerges a tower with a double row of windows and crenellated crowning.

PALAZZACCIO (PALAZZO SALVIATI)
Known by the name of Palazzo Salviati as well, the Palazzaccio is of fourteenth-century origin but also shows some subsequent changes. The façade is singular in the sense that it recalls the models of Tuscan architecture of the late Renaissance period, with that typical use of the superimposition of loggias with segmental arches on the first two levels and then with architraves in the form of a terrace on the third.

CHURCH OF SAN GIOVANNI BATTISTA
Built in 1312 it became a Baptist church in the XIIIth century. Modified several times over the centuries, it presents a simple façade introduced by an arcade with three arches, raised up on steps. In the entrance a gravestone of 1662 commemorates Cardinal Giovanni de' Medici, later Pope Leone X who took over the rectorate of the church from 1495 to 1502. Inside there is a single rectangular nave with a trussed roof. Here there was once the triptych of Mariotto di Nardo, portraying the 'Trinity and Saints' which can now be admired in the Museum of the Basilica.
San Giovanni Valdarno
A village in the Arezzo territory filled with artistic patrimony
San Giovanni Valdarnohas maintained its medieval appearance, with the typical urban shape of the so-called "new lands": at the centre is a large piazza, and all around are shaded porticoes delimiting the streets. San Giovanni offers are lovers more than a few attractions, including churches, museums and cultural centres. Of course, good cuisine is also in abundant supply. ...
Morekeyboard_backspace
You might also be interested in