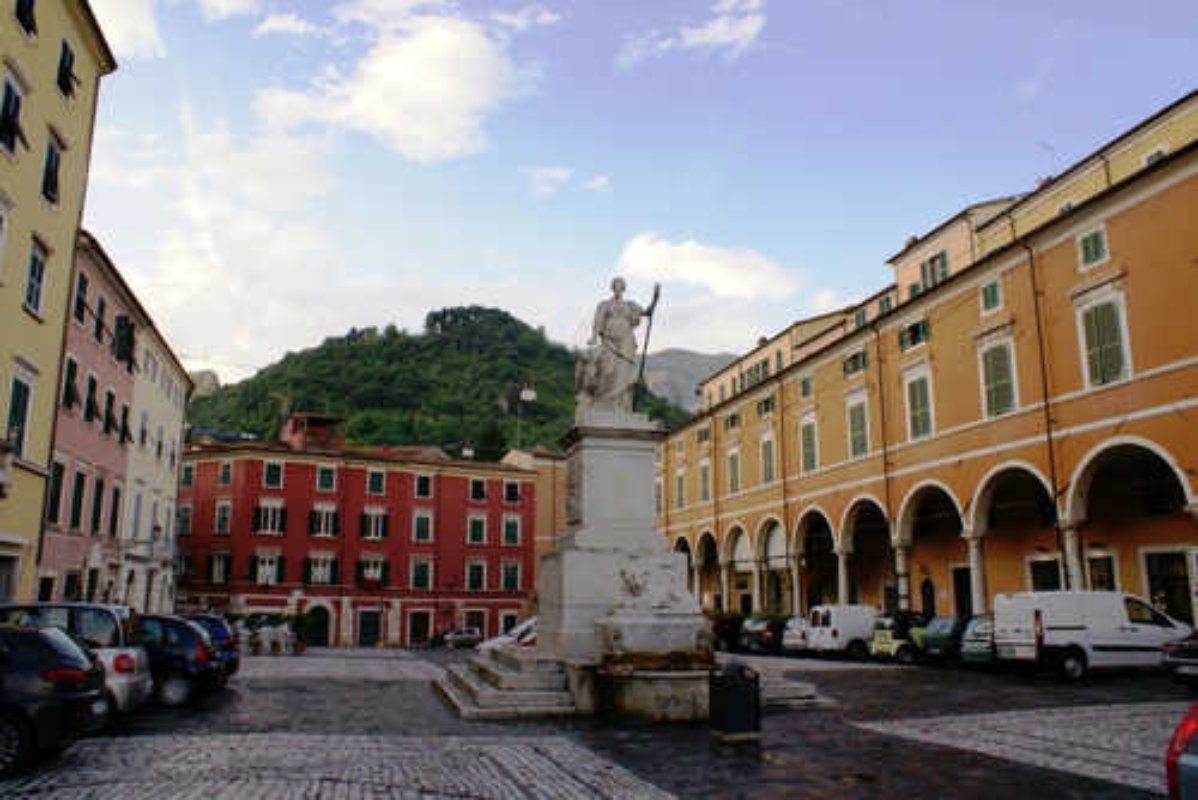 Hamlets, districts and squares
Piazza Alberica, Carrara
Il cuore della città del marmo
Questa è la piazza più rappresentativa ed animata di Carrara essendo, inoltre, uno dei luoghi dove vengono realizzati diversi eventi culturali ed espositivi dedicati, in particolare, alla valorizzazione della scultura. Di notevole interesse é anche il festival "Musica e Suoni dal Mondo", che si svolge durante il periodo estivo.

La piazza deve il suo nome ad Alberico I Cybo Malaspina, che la fece costruire nel XVI secolo sull'area del foro boario, al margine delle mura albericiane e, da quel momento, divenne il nuovo centro economico della città, luogo di mercato e del commercio.

Al centro spicca il monumento con fontana dedicato a Maria Beatrice d'Este, duchessa di Massa e Carrara. La duchessa é rappresentata in vesti classiche con scettro e statuto. Il piedistallo, elevato sopra una grande base, presenta quattro fronti con bassorilievi raffiguranti varie allegorie. Infine, un leone marmoreo sovrasta una grande vasca che riceve due getti d'acqua.

La piazza è cinta da palazzi d'impronta sei-settecentesca tra i quali si distinguono il Palazzo delle Logge, la Casa natale dello scultore Pietro Tacca ed in particolare il Palazzo dei Conti del Medico, il quale s'impone per il rosso intenso della colorazione della facciata e per gli sfarzosi ornamenti in marmo.

Degna di nota é la pavimentazione, essendo ricoperta da tarsie marmoree provenienti dalle vicine cave delle Alpi Apuane, che è anche stato il materiale usato principalmente per la realizzazione della statua di Maria Beatrice d'Este, delle decorazioni degli edifici e dei loggiati che si affacciano sulla piazza.
Carrara
Don't miss Malaspina Castle and the Apuan Alps Park
Carrara has always been considered the city of marble, and for good reason. The identity of this centuries-old city—with strong ties to both the mountains and the nearby Ligurian Sea—has always had marble at its heart: the pristine stone has been extracted from area quarries since Roman times. When you hear or utter "Carrara," marble and quarries are the immediate associations. ...
Morekeyboard_backspace
You might also be interested in