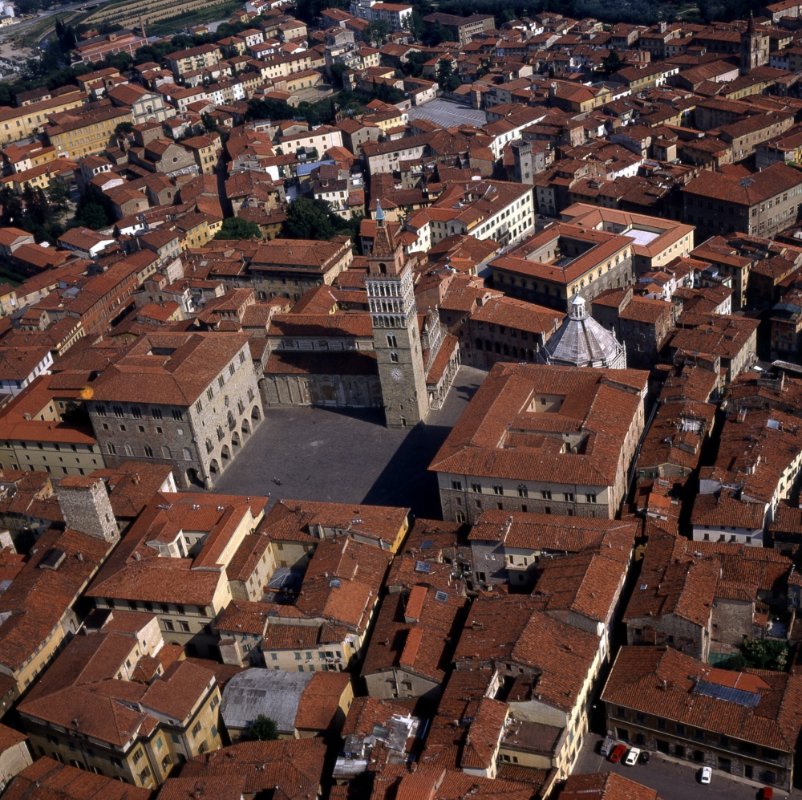 account_balanceMuseums
Palazzo Rospigliosi in Pistoia
Building hosts two museums
The museum is housed in Palazzo Rospigliosi, a noble palace inside the first set of city walls purchased by the Rospigliosi family in the 16th century. The last heir left the palazzo and its furnishings to the bishop's curia.The museum of the diocese, opened in 1968 in the Palazzo dei Vescovi in via Puccini, conserves liturgical vestments and other religious works. In 1990, it was transferred to an eight room space in Palazzo Rospigliosi and combined with the donation of Clemente Rospigliosi. The latter collection consists of various memorabilia and 48 paintings (mainly from the 17th century) which are conserved in four rooms.

The diocese's collection comes from numerous churches around the area. The Rospigliosi collection is filled with sumptuous 17th century decor which was likely purchased to decorate for the Pistoia pope Giulio Rospigliosi (1660-1669) when he was in town.There are two terracotta sculptures from the 15th and 16th centuries and important liturgical vestments including crosses dating back to the 12th to 15th centuries. Other notable pieces include incense burners from the 14th and 15th centuries and chalices from the 15th century.

The palazzo boasts important pieces of furniture, paintings by Fra Paolino (first half of the 16th century), Sebastiano Vini (late 16th century), and by Tuscan painters from the 17th century such as Giacinto Gemignani and Florentine painters Jacopo Vignali, Lorenzo Lippi and Felice Ficarelli.

Hours: Weekdays and the second Sunday of every month 10-13 and 15-18. Closed Mondays and holidays.
Price: 3,50 €; reduced 2,00 €; cumulative with the museo Civico and Centro Marino Marini 6,50 €; cumulative with two other museums 5,00 €.
Handicap access: No
Contact:
via Ripa del Sale 3
PISTOIA (PISTOIA)
Tel. 0573 28740
E-mail:museodiocesano@diocesi.pistoia.it


Pistoia
History, nature and food in the shade of the Apennines
A captivating Roman city, Pistoia is a place that wows art lovers and tourists in search of centuries-old traditions. Poets and writers have always praised its charms, calling it the "city of enchanted stone" and the "city of wide streets and beautiful churches". ...
Morekeyboard_backspace
You might also be interested in