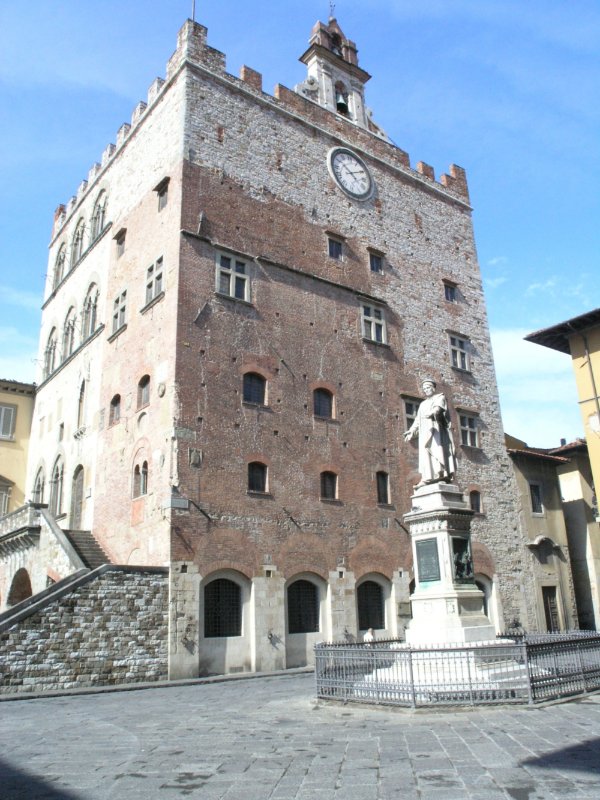 crop_originalArtworks
Palazzo Pretorio fresco
Restoration work in the palazzo uncovered this masterpiece by Lippi
Structural restoration work carried out in Palazzo Pretorio lead to the discovery of an interesting fragment of a fifteenth century fresco. This work of art forms a crucial piece of the puzzle that makes up the artistic and historical background of the palazzo. The fragment can be found on the external part of the building, between the stairway and the loggia, on a part of the wall which runs alongside the old San Donato church, now known as Palazzo Valentini.

The fragment measures approximately three square metres. It depicts a winged figure with a well-sculpted, graceful body. The figure is holding up a garland in which there is a coat of arms. In the upper part of the fresco, much less clear, is a lion which symbolises Florentine power. There is also a red 'gualdrappa' decorated with lilies, which represents the city of Prato. Also visible is a decorative motif made up of delicate floral designs.

The coat of arms within the garland in the fresco shows a golden lion with a bright blue and silver background. This represents Antonio di Lorenzo Spinelli, mayor of Prato in 1457. He was from a Florentine family of vaiers and was related to the daughter of mayor Piero di Cosimo Corsini. During the fifteenth century, three different members of the Spinelli family took on the role of mayor of Prato. Restoration work has brought to light this work of art by Lippi and his assistants, Giannino della Magna and Fra Diamante.
Prato
In the heart of Tuscany, a city of art and prestige
If there is one city that can impress those looking for lesser-known destinations, it's Prato. Considering how the city is presented in the press, visitors will be surprised to discover an elegant and well-preserved historic city centre, as impressive as the most famous Medieval cities dotting Tuscany. ...
Morekeyboard_backspace
You might also be interested in