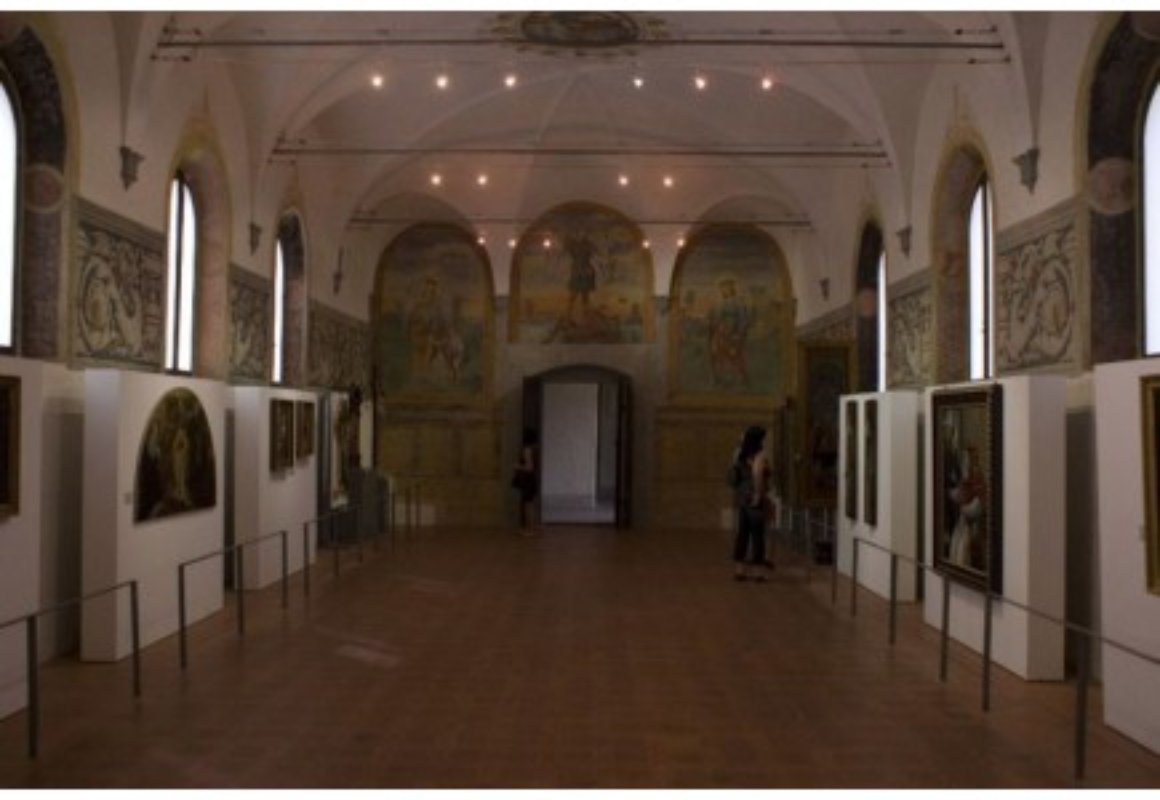 account_balanceMuseums
Museum of the Abbey of Monte Oliveto Maggiore
A tower with drawbridge stands at the entrance to the monastery and the road leading to it is surrounded by cypress trees and small chapels
This
Mother House of the Olivetan Comgregation
is in a marvellous spot just south of Siena, in a landscape known for its 'crete senesi' (clayey earth which has a specific colouring, typical to Siena). The congregation was founded in 1313 by John Tolomei (who took the religious name of Bernard) along with two of his friends from the noble families of
Siena: Patrick Patrizi
and Ambrose Piccolomini. They lived as hermits in a place called the 'Accona desert'. After the arrival of a number of new followers the nascent community accepted the Rule of St. Benedict and was recognised by Pope Clement VI in 1344. The building of the monastery began with the approbation of the 'Charta fundationis' by Guido Tarlati, bishop of
Arezzo
(26 March 1319), and the monastery took the name of Monte Oliveto 'Maggiore' (Major) so as to distinguish it from successive foundations (Florence, S.Giminiano, Naples, etc.).
A tower with drawbridge stands at the entrance to the monastery, the road leading to it is surrounded by
cypress trees
and small chapels. The tower, transformed into a restaurant (tel. 0577 707022), is decorated by a terracotta statue (early 16th Century) representing the Madonna and Child flanked by two angels. The interior of the Church, which is in the shape of a Latin Cross, was redesigned at the end of the 18th Cent. There are a number of works of art to take note of such as the wooden Crucifix brought by Bl:Bernard in 1313, the choir stalls inlaid by Fra Giovanni da Verona and the lectern by
Fra Raffaele da Brescia
(1518).
The marvel of the monastery is the
Great Cloister
with its 36 frescoes (Luca Signorelli, 1497 and Antonio Bazzi - called "Sodoma", 1505) which recount the life of St. Benedict, according to the Book of Dialogues by St. Gregory. It is also possible to visit the Refectory with its frescoes dating back to the 17th Century, the Library (stripped unfortunately of its more precious books), the Pharmacy with its terracotta vases and a small art gallery in the Chapter Room.
• The Abbey is open to visitors each day from: 9.15am – 12pm and from 3.15pm – 5pm (6pm in summer).
• Groups are welcome to visit the Abbey and can be shown around by one of our English speaking tourist guides.
To make a booking, please telephone: 0577 71 85 67
e-mail:
eremitadellagrotta@hotmail.com.
• The monastery guest house is open for visitors on religious retreats :
tel. 0577 70 76 52 (09.30-10.00 / 14.30-15.00 / 17.30-18.00),
fax: 0577 707644 e-mail :
foresteria@monteolivetomaggiore.it
• Tourists may stay in the farm house of the monastery:
Podere 'Le Piazze', 53041 - Chiusure (Siena). tel. 0577 707269
Source:
www.monteolivetomaggiore.it
Asciano
A treasure trove of medieval art in the rolling Monte Oliveto Maggiore hills
Asciano is a centuries-old town located in the heart of the Crete Senesi. Urban myth would have us believe that the town was founded by Ascanio, the son of Remo and brother of Senio, the founder of Siena. Archaological remains date the settlement to the Bronze Age and the early Iron Age, making Etruscans the first colonizers of the area. ...
Morekeyboard_backspace
You might also be interested in