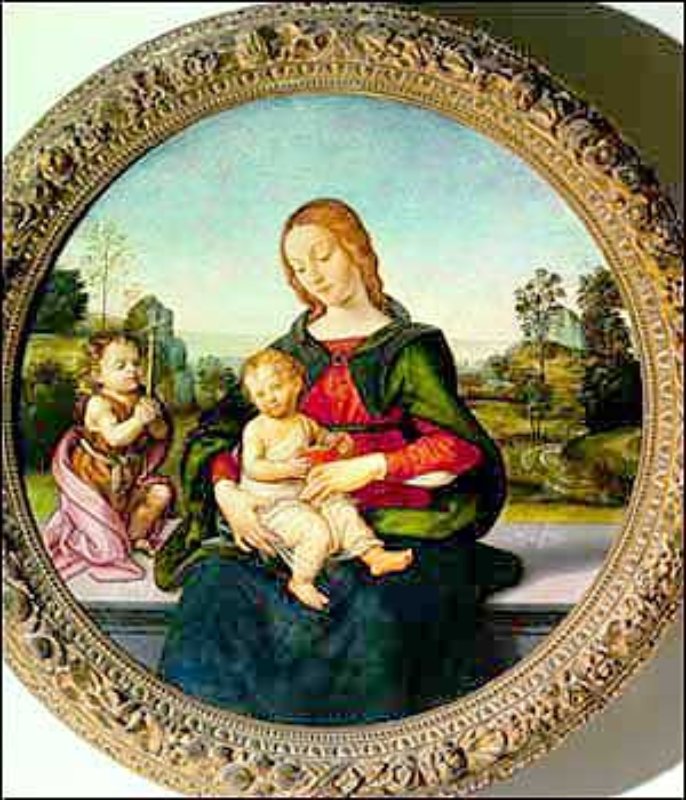 crop_originalArtworks
Madonna with Child and Young Saint John
Panel painting by Raffaellino del Garbo
This circular panel painting by Raffaellino del Garbo has an ornately decorated frame. Del Garbo was a pupil of Filippino Lippi and the two men worked together during the last ten years of the fifteenth century on the cycle of frescoes in the Carafa chapel in Rome. The style of these frescoes is very different from the maestro's typically nervous linear style and shows a rather more calm, balanced composition. The figures and decorations are painted in the teacher's style, although the characters in the painting don't have strong facial expressions. The background landscape is luminous and reflects the style of later work by Filippino.

The Madonna with Child and Young Saint John is on display in the Civic Museum in Prato. There is a great sense of balance between the figures and the landscape; the placid calm of the facial expressions seems to reflect the work of Perugino and the Florentine style. It is not known exactly where this painting came from, although considering its religious subject it is thought to have been used for private worship and was perhaps hung in a bedroom or other domestic setting. In the painting, the Madonna is sitting upon a parapet, holding the Baby Jesus who has an open book in his hands. On the left is Young Saint John the Baptist in prayer. The cross is a reminder of the preacher in the desert. The whole scene is an allusion to the passage from the Old to the New Testament: the 'first Messiah' (Old Testament) and the presentation of Christ to the people in the desert as the only Messiah (New Testament).
Prato
In the heart of Tuscany, a city of art and prestige
If there is one city that can impress those looking for lesser-known destinations, it's Prato. Considering how the city is presented in the press, visitors will be surprised to discover an elegant and well-preserved historic city centre, as impressive as the most famous Medieval cities dotting Tuscany. ...
Morekeyboard_backspace
You might also be interested in