crop_originalArtworks
Madonna del Silenzio by Marcello Venusti
An important oil painting at the Sanctuary of Madonna delle Grazie
Just a few kilometres from Capoliveri, on Elba island, there's a religious sanctuary called the Santuario della Madonna delle Grazie. It was built in the sixteenth century in a post-Renaissance (almost Baroque) style.

Inside, visitors can admire an image dear to all the local inhabitants: Marcello Venusti's painting of the Madonna del Silenzio. This work of art shows a serene Virgin Mary sitting on a bench and holding the sleeping Baby Jesus. The child lies on her mother's legs while she's holding the Bible.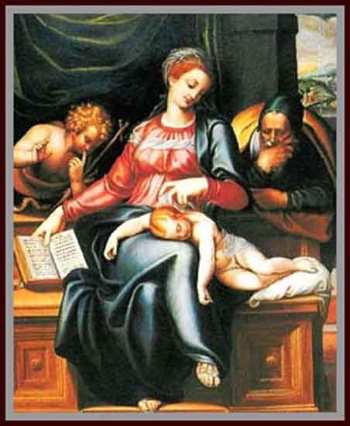 Saint Giovanni is shown in the background, asking for silence out of respect of the sleeping child. Saint Giuseppe is also present on the right. This work of art has turned the sanctuary into a place of pilgrimage and the chapel is full of ex-voto. The painting is hung above the main altar.
Marcello Venusti was an important painter during the Renaissance (1512/5 - 1579). He originally attended the Lombard school of painting before becoming influenced by the Tuscan Renaissance style thanks to Michelangelo.
Legend has is that the local inhabitants of Capoliveri found this painting on the beach. After having taken it to the town, it somehow mysteriously ended up back in the same spot where it had been found. Nobody had laid hands on it after it was brought to the town. This mystery was deemed a miracle and consequently the chapel and then sanctuary were built. Every year on December 8, the town celebrates the Madonna delle Grazie with festivities that continue for 8 days.

A second version of the legend says that the canvas was brought to the town by the Montecristo monks of Saint Mamiliano when they decided to build a new monastery. The painting was supposedly donated to them by Pope Giulio II della Rovere.
Info: comune.capoliveri.li.it
Capoliveri
A medieval town on a hilltop and surrounded by the sea
Capoliveri, which stands on a hill at 167 metres above sea level, is one of the most distinctive and active villages on the Isle of Elba, abounding with beauty and history. The town is built into a terrace on a slope of Monte Calamita. ...
Morekeyboard_backspace