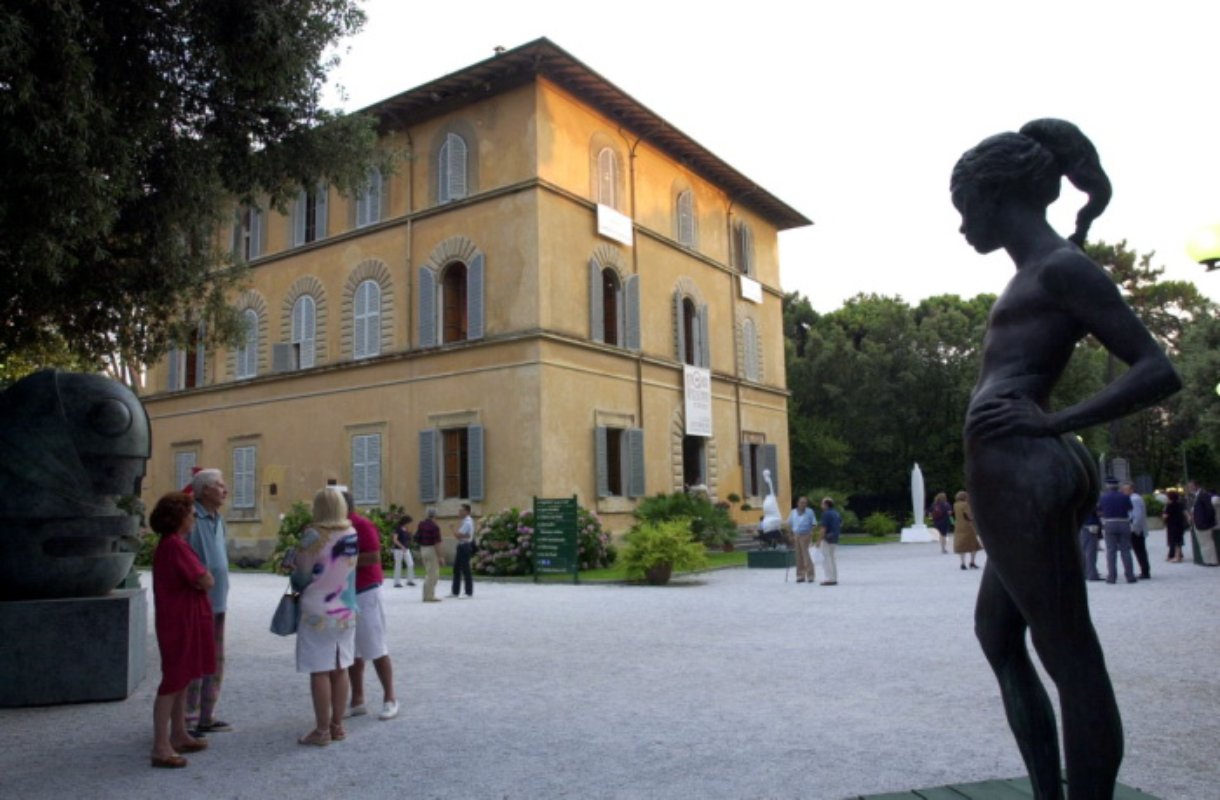 ???.icon?????????
La Versiliana
Nei mesi estivi al Parco della Versiliana, Località Fiumetto di Marina di Pietrasanta
La Versiliana, come luogo di spettacolo e di intrattenimento culturale, è riuscita in pochi anni ad imporsi come il più prestigioso spazio della Versilia, per altro non priva di tradizioni di cultura di grande importanza, e si è affermata, nel corso degli anni, anche a livello nazionale. 

Il Parco della Versiliana, all'interno del quale si svolge il Festival nei mesi di luglio e agosto, si trova in località Fiumetto di Marina di Pietrasanta e prende il nome dall'omonima villa al suo interno, edificata alla fine dell'Ottocento dai Conti Digerini Nuti: grandi sono il fascino e la magia che circondano questa splendida residenza, divenuta famosa per avere ospitato nei primi anni del Novecento Gabriele d'Annunzio. 

La storia dei suoi soggiorni alla Versiliana si confonde spesso con la leggenda, con tante e varie supposizioni sulle date precise dei suoi soggiorni, le donne con le quali si accompagnò qui, le opere che compose ispirato da questo paesaggio naturale suggestivo, ma è certo che è possibile individuare nel grande poeta pescarese il precursore degli incontri pomeridiani e degli spettacoli all'aperto: egli infatti amava intrattenersi con i suoi amici letterati proprio all'ombra degli splendidi pini del parco e s'impegnò nel promuovere un teatro all'aperto dove si potessero recitare le sue opere e i grandi classici della storia della letteratura.

E' il 1980 l'anno di nascita ufficiale del Festival della Versiliana, sotto la guida di Franco Martini, nominato direttore artistico della manifestazione, con un ricco cartellone nel quale spiccavano qualificate Compagnie dei più prestigiosi teatri nazionali, che vedrà, nel corso della stagione successiva, l'introduzione della sezione del balletto e l'avvio degli Incontri al Caffè pomeridiani, caratterizzati dalla presenza di personaggi famosi della cultura, della politica, dello spettacolo, delle scienze, con l'intento di riproporre la tradizione dei cenacoli culturali, che per tanto tempo aveva caratterizzato la Versilia.
 

Per ulteriori informazioni:
http://www.laversilianafestival.it/
Pietrasanta
Land of artists and marble workers between the Apuan Alps and the sea
The fascinating city of Pietrasanta is the perfect destination for art enthusiasts, both classic and contemporary. A gathering place for artists from all across the world and a true hub for international sculpture, in recent decades, Pietrasanta has become a something of an open-air museum, where visitors can admire, among the many galleries and public piazzas, an uninterrupted continually ...
Morekeyboard_backspace
You might also be interested in