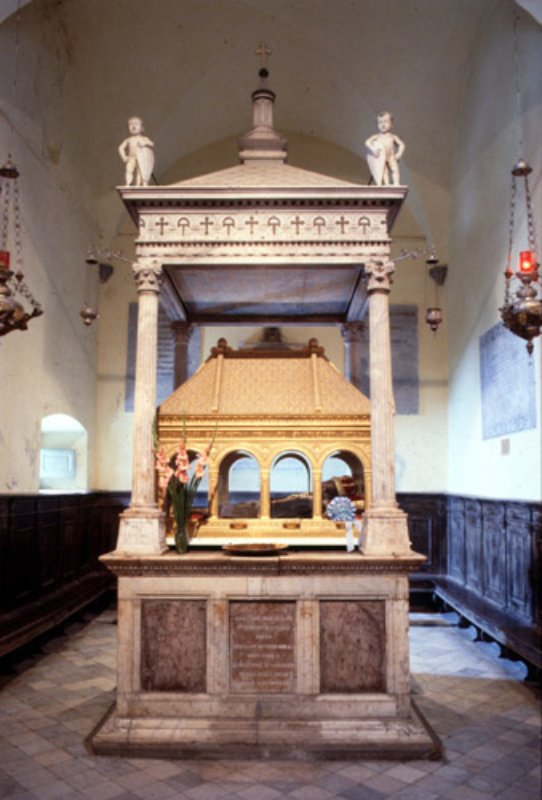 account_circleHistorical personalities
La leggenda di San Pellegrino
La vita di San Pellegrino dell'Alpe, il cui culto non è mai stato ufficialmente riconosciuto dalla Chiesa
La fantasia popolare ha elaborato una vita leggendaria di San Pellegrino, che venne diffusa dai conversi della comunità che si recavano alla questua per i poveri. Secondo la leggenda, San Pellegrino è il figlio del re di Scozia Romano e di sua moglie Plantula. Compie prodigi fin dal giorno in cui è battezzato. Dopo una fanciullezza di penitenza, rinuncia alla successione del regno e s'incammina verso la Terra Santa, accompagnato da una banda di ladri che aveva miracolosamente convertito. Dopo avere subito persecuzioni, s'imbarca verso l'Italia, dove visita i principali santuari. Abita in una caverna dove è visitato dagli animali selvatici, che gli diventano amici. Passati molti anni si reca in un luogo adatto alla penitenza, rifugiandosi dentro un albero cavo. S. Pellegrino muore a 97 anni, dopo aver scritto in una corteccia d'albero la sua vita.

Due coniugi modenesi, avvertiti in sogno da un angelo, ritrovano il suo corpo intatto, custodito da gran moltitudine di animali.
Accorrono sul luogo i vescovi e le popolazioni della Toscana e dell'Emilia e sorge una disputa fra gli emiliani che vorrebbero portare il Santo in pianura ed i toscani che lo rivendicano, essendo morto nei loro confini. Viene posta la salma su di un feretro tirato da due torelli indomiti, uno toscano ed uno emiliano, che si fermano sul luogo detto termen Salon. Qui sorge una basilica in onore di San Pellegrino, la cui dedicazione avviene il 10 agosto dell'anno 643. In questo luogo, in cui avvengono molti miracoli e che viene onorato da papi ed imperatori, sorge poi un ospizio per accogliere coloro che accorrevano a venerare il Santo. Occorre ricordare che il culto di San Pellegrino dell'Alpe, che ha pure avuto grande impulso popolare nel passato e lo conserva tuttora, non è mai stato ufficialmente riconosciuto dalla Chiesa.

(Articolo a cura della Provincia di Lucca - Fonte P.L. Biagioni).
Castiglione di Garfagnana
A fortified village that keeps its walls and the ancient stronghold intact
The history of Castiglione starts with the primitive "Castrum" built by the Romans and was developed in the Longobard and Frank times. The entire town of Castiglione is a monument, in that it still today keeps the characteristics of the past. ...
Morekeyboard_backspace