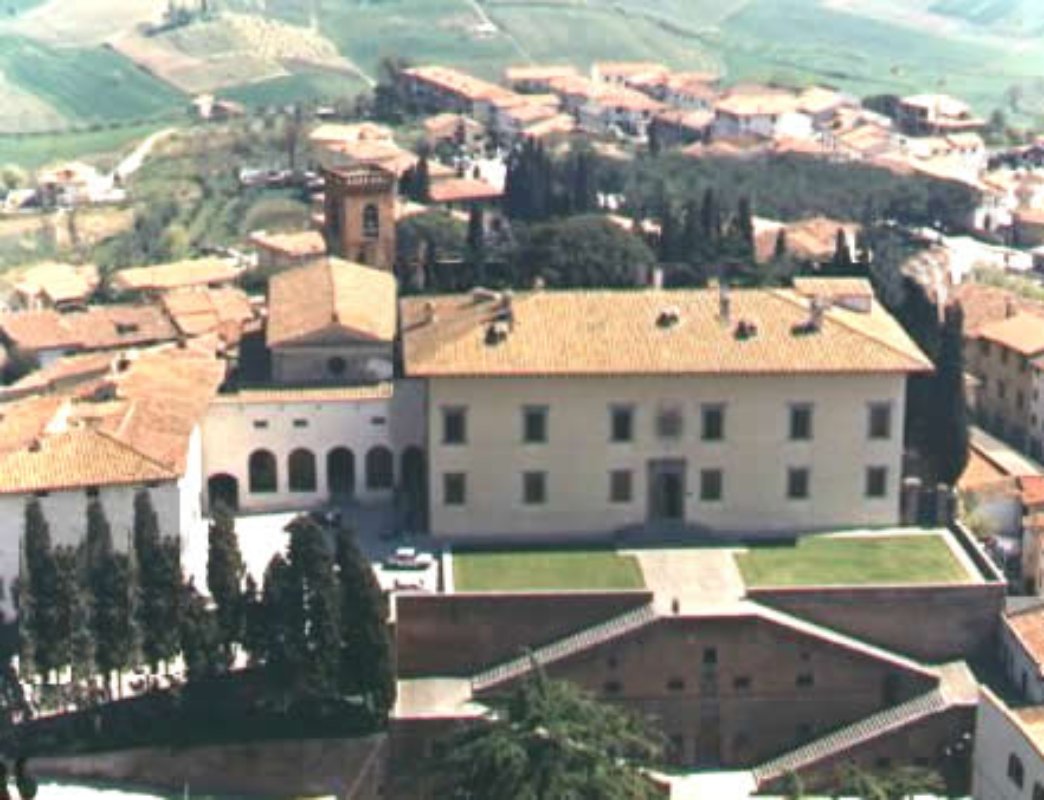 location_cityArchitecture
Historical buildings in Cerreto Guidi
The architectural heritage of Cerreto Guidi
Villa Medicea
The Villa Medicea in Cerreto Giudi stands at the top of the hill where the Conti Guidi Fort once was. The very size of the villa makes it stand out from the surrounding countryside. The villa complex includes the majestic 'ramps' which are traditionally attributed to Bernardo Buontalenti, as well as the nearby 'farm' which used to act as a large store room for the villa. In the lower area there are the 'Stalloni' which Pietro Leopoldo donated to the village in 1780. The villa is currently owned by the state and has been turned into a National Museum. The gardens have an nineteenth century design although alterations were also made to them in the last century.

Palazzina dei Cacciatori (Hunters Lodge)
Palazzina dei Cacciatori is at the start of Via Santi Saccenti. It was built by Cosimo I de Medici at the same time as the Villa Medicea was being built, around 1564. As the name indicates, this palazzina was a meeting place for hunters ('cacciatori'). The Grand Duke himself once wrote that one could 'hunt all year round' in Cerreto. The ancient Medici coat of arms is still visible today on the palazzina and until recently the building was as headquarters for the Fattoria del Capitolo.

Villa La Motta
The quadrangular form of the villa di Bassa (known as the villa La Motta) stands on the flatlands of the Arno valley, between the bridge to Motta and the village of Bassa. The first documented evidence of the villa dates back to 1586. It currently belongs to the Castellani family.

Villa di Colle Alberti
The villa di Colle Alberti – which today is home to one of the area's most important wine producers – is near the village of Bassa on the typical wooded and agricultural slopes leading down to the Arno valley. The villa is divided into two equally sized buildings and the architecture is typical of the Florentine renaissance period style. There is a chapel to one side dedicated to Santissima Annunziata. This chapel used to be inside the villa but was rebuilt outside in 1858.

Villa Mori
Villa Montalvi (owned today by the Mori family heirs) is on the road to Gavena, just a few kilometres from the village of Bassa. The main building is long with two side towers and a connected farm house. The front entrance is reached by a stairway on either side of the door which has the coat of arms of the Ramirez da Montalvo family above it. There is also a chapel dedicated to San Filippo Neri close to the villa.
Cerreto Guidi
Historic homes nestled between vineyards and olive groves among the beautiful Montalbano panorama
Cerreto Guidi, a hilly area situated between the Montalbano and Arno, owes its name to the Counts Guidi, an ancient feudal family who built a castle not far from the route Francigena, known as the road of pilgrims and merchants. ...
Morekeyboard_backspace
You might also be interested in