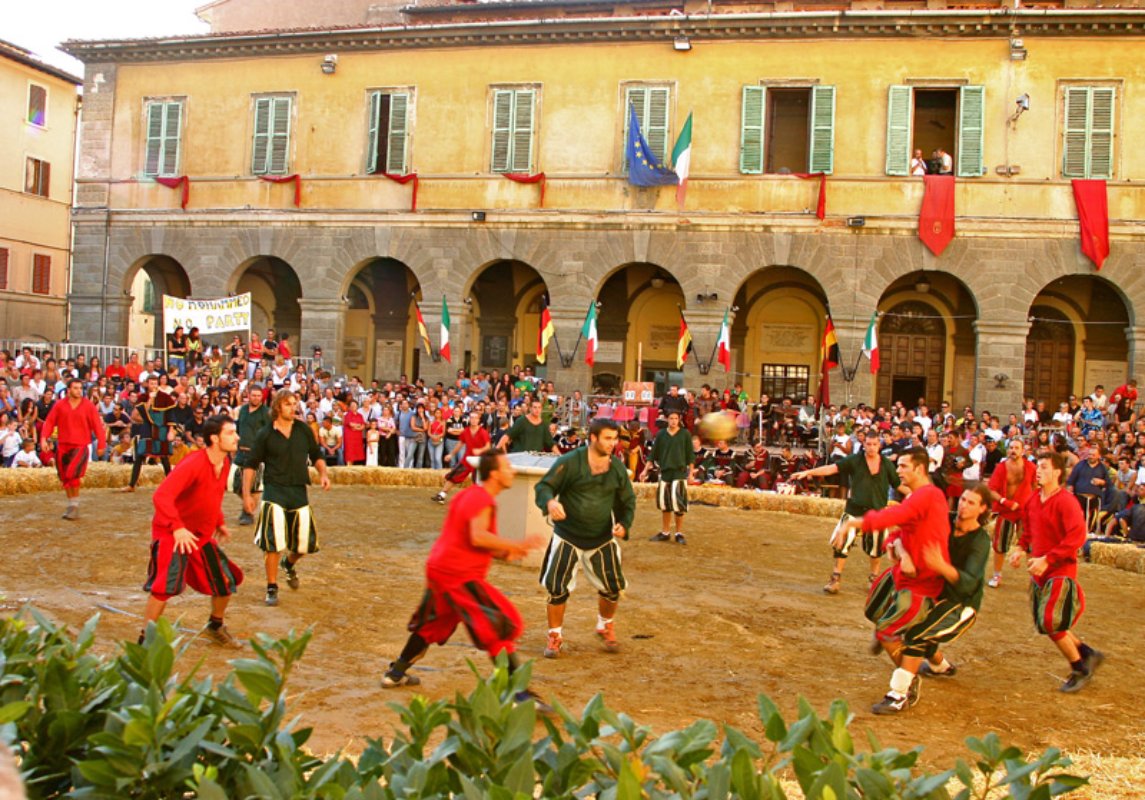 person_pin_circleVisit
Historic "Gioco del Pozzo" in Montevarchi
First Sunday in September city relives its origins
The traditional
Festa del Perdono
(Feast of Forgiveness) is celebrated in
Montevarchi
on the first Sunday in September. On this occasion residents and visitors relive one of the most beautiful episodes of their history; the return of their "Lord" and valiant Captain of the Tuscan Guelphs, Count Guido Guerra, who, accompanied by Count of Provence Charles Anjou, went to the church of San Lorenzo in Montevarchi and donated a precious relic of the Madonna's.
This important historic event was reproduced by
Andrea della Rob
bia
in the bas-relief conserved in the
Museo di Arte Sacra della Insigne Collegiata di Montevarchi
.
Within the context of the Festa del Perdono, the city also celebrates the
Gioco del Pozzo
, an ancient tradition revived and re-produced against the backdrop of
Piazza Varchi
.
The game very likely originated with the need to determine who had priority among the four gonfalons of the historic city to draw water during the dry months. The priority lasted for one year starting from the first Sunday in September and represented the fulcrum of the feasts of forgiveness.
The event has its own rites celebrated beginning on Saturday morning with the reading of the official announcement and the decoration of the city with
medieval arts and crafts booths
. During the afternoon, the blessing of the gonfalons takes place just before the first competitions. Montevarchi puts on a true medieval festival complete with dinners, events and activities. On Sunday afternoon the finals are held and the winning gonfalon is announced. It is an
exciting game that consists of each team trying to hit the bulls-eye, which is the center of the well.
At the end of the game, the Podestà gives the Magistrate and the winning Captain of the Gonfalons a characteristic "mezzina", traditional container for water that symbolizes the victory of the winner to draw the precious liquid for his people.
It is a weekend that will bring you back in time, to the origins of the town, an event not to be missed both for its beauty and its unique nature.
For more information:
www.ceristmvarchi.org
Montevarchi
One of the most picturesque towns in the Valdarno area
The Montevarchi area once occupied a strategic position at the point where the roads met to Arezzo, Florence and Siena. Until the year 1000 the plain was almost desert, the area was wooded and the free flow of the river Arno often led to flooding. ...
Morekeyboard_backspace
You might also be interested in