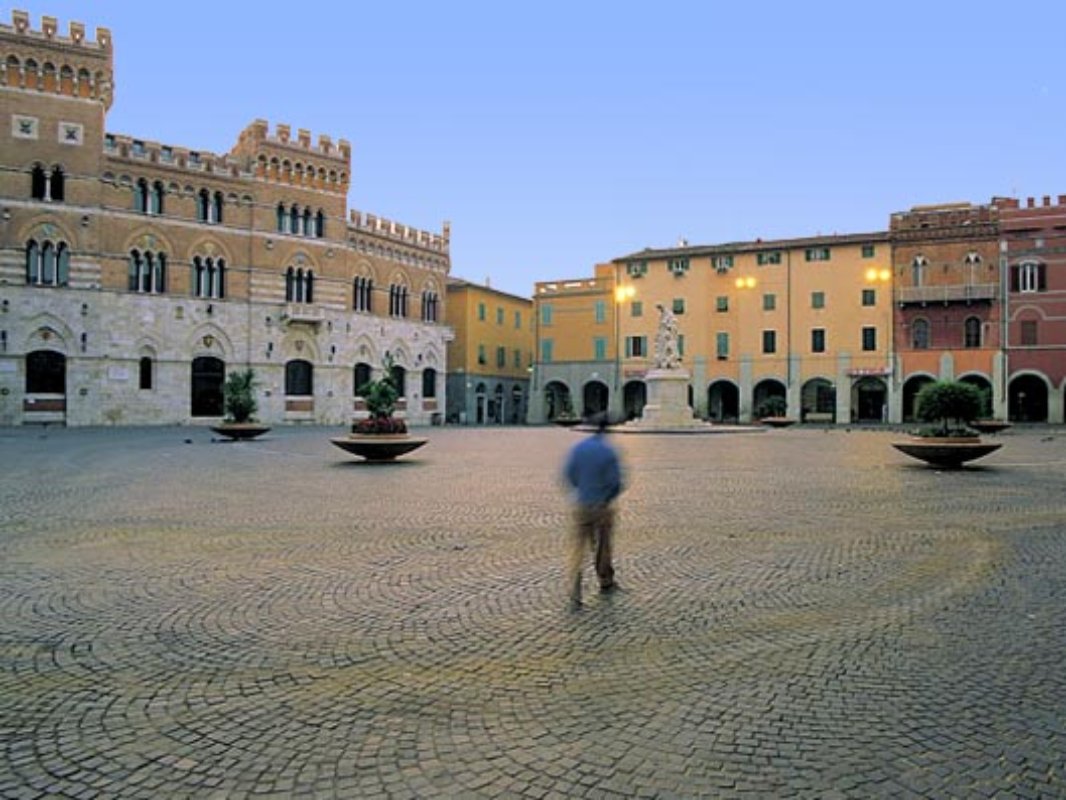 location_cityHistorical Buildings
Grosseto, Palazzo Tognetti
One of the City's highlights
STYLE
Considered one of the most distinct examples of Liberty style, the building is right in the centre of the historical part of town.
The construction is rectangular and rises up on three floors and an attic. The faces, underlined by string-courses and divided into regular sectors by pilasters fluted and modelled at the base and in the proximity of the capitals, are characterised by rich decorations in artificial stone with floral tracery designs around the apertures and along the balustrade enclosing the upper terrace.
HIGHLIGHTS
The ground floor consists of a concrete bed and a cornice imitating the classical style. The entrances are characterised by a cornice in artificial stone, used also around the apertures of the upper floors in which are present floral designs. Flower clusters can also be seen in the wrought iron railings of the small balconies in the centre of the two façades and in the tympani of the doors and windows which, together with the tracery-work of flowered branches and scrolls constitute the principal decorative pattern that is characteristic of the Liberty style.
Another peculiarity of the building is the chromatic contrast created by the grey of the artificial stone, - a 'modern' material for that era that was widely used for the decorative parts – and the light colour of the plastering. Inside, the entrance-hall, faintly illuminated by the glass aperture above the door, still has the original flooring in hexagonal tiles of coloured cement and at the back a stairway with railings of cast-iron balusters and wooden handrail, impractical to use for the little space due to tightness of the turns in the stair and almost total lack of light. The space opens up thanks to the skylight on the last floor which has an elegant cornice in stucco with coupled brackets in the corner.
There are two apartments for each floor for office use and private quarters.
Grosseto
Strolling through the Maremma's main city
Grosseto is a beautiful city nearly on the edge of the Tuscan region. It is known as the political and cultural center of the Maremma – Tuscany's wilder, coastal territory, often overlooked by tourists. It's an ideal base for exploring the surrounding hilltops and sea sections, and has a family-friendly tranquility, as well as unexpected surprises. ...
Morekeyboard_backspace
You might also be interested in