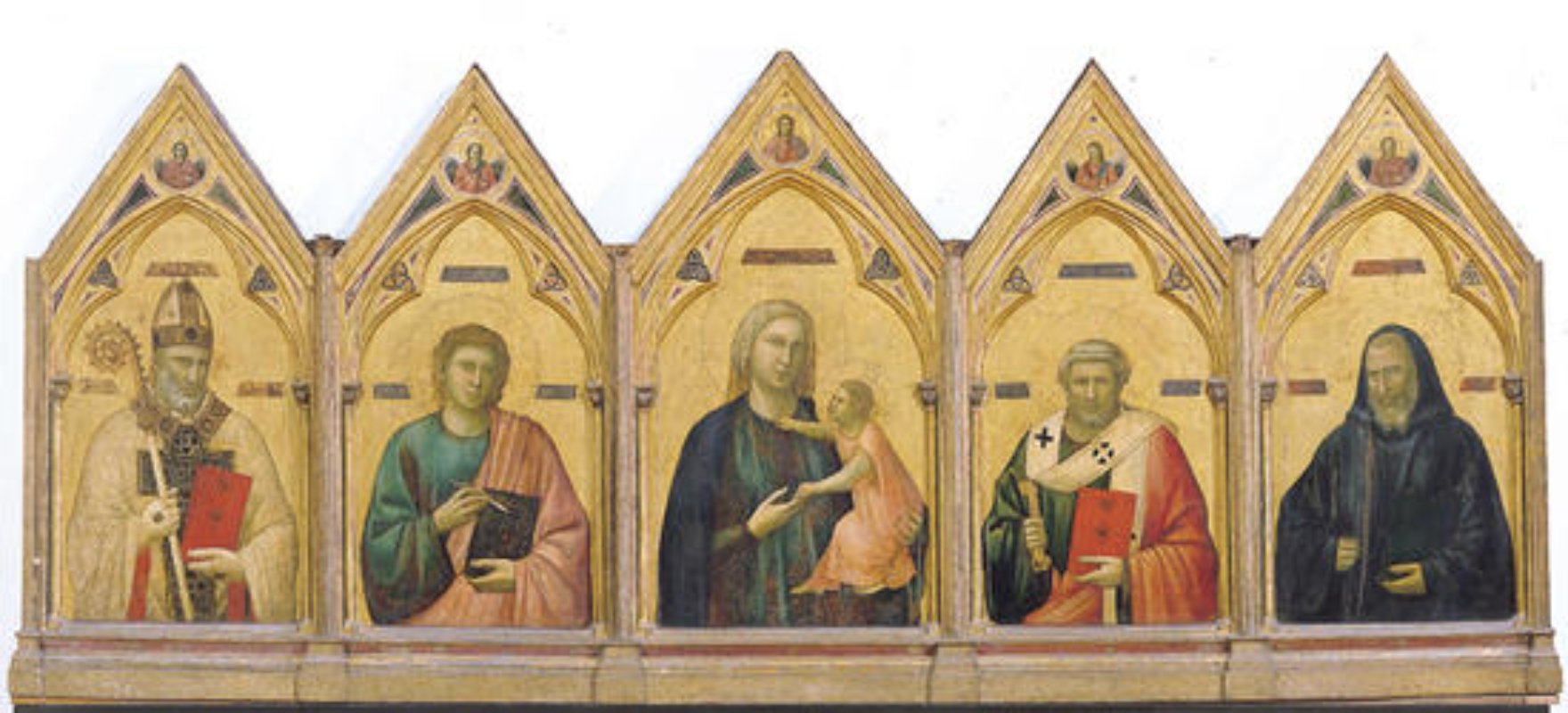 crop_originalArtworks
Giotto, Polyptych of Badia
At the Uffizi in Florence
The polyptych for the Badia di Firenze by Giotto is now preserved in the Uffizi Gallery.

A multi-panel painting, it is composed of five panels, each with a triangular cusp. The Virgin Mary is in the central panel; on the left side, there are the saints Nicola di Bari, John the Evangelist, Peter and Benedetto (all seen at half bust). In the cusps, there are tondos with the busts of angels, and in the centre, there is a tondo of Christ. In 1451-1453, the polyptych was given a rectangular form by the adoption of a new frame more to Renaissance tastes. Four cherubs by Jacopo d'Antonio were also added to the artwork at this time, but removed when the artwork was restored in 1958.

Every figure occupies its own space and some of the most significant aspects of this painting are the rich colors of San Nicola's gown, and the vivacious and affectionate gestures of Christ. Giotto thoroughly studied the robustness and unique aspects of the composition. The artwork tells the story of Saint Francis in Assisi. Art critics believe it was completed in circa 1300, definitely before Giotto went to Padova to paint the Scrovegni Chapel.

For many years, this work was conserved in a convent, and later, in the Santa Croce Museum, where Ugo Procacci was able to correctly trace its origin to the Badia church (closed down in 1810 due to Napoleonic suppression). This was when the polyptych was attributed to Giotto.

During the 1966 Florence Flood, the polyptych was fortunately saved, and it was later transfered to the Uffizi Gallery. In 2000, it underwent more restoration work.


Florence
An astonishing city of art, fashion and tradition
If you are visiting Tuscany you cannot miss Florence. The Renaissance city is a treasure trove of art with an astonishing contemporary vibe. Beyond the extraordinary artistic heritage, a testimony to its centuries of civilization, the best way to enjoy Florence is to stroll along the riverside avenues at sunset, or to get lost among the city's myriad alleyways of the bohemian Oltrarno or the ...
Morekeyboard_backspace
You might also be interested in