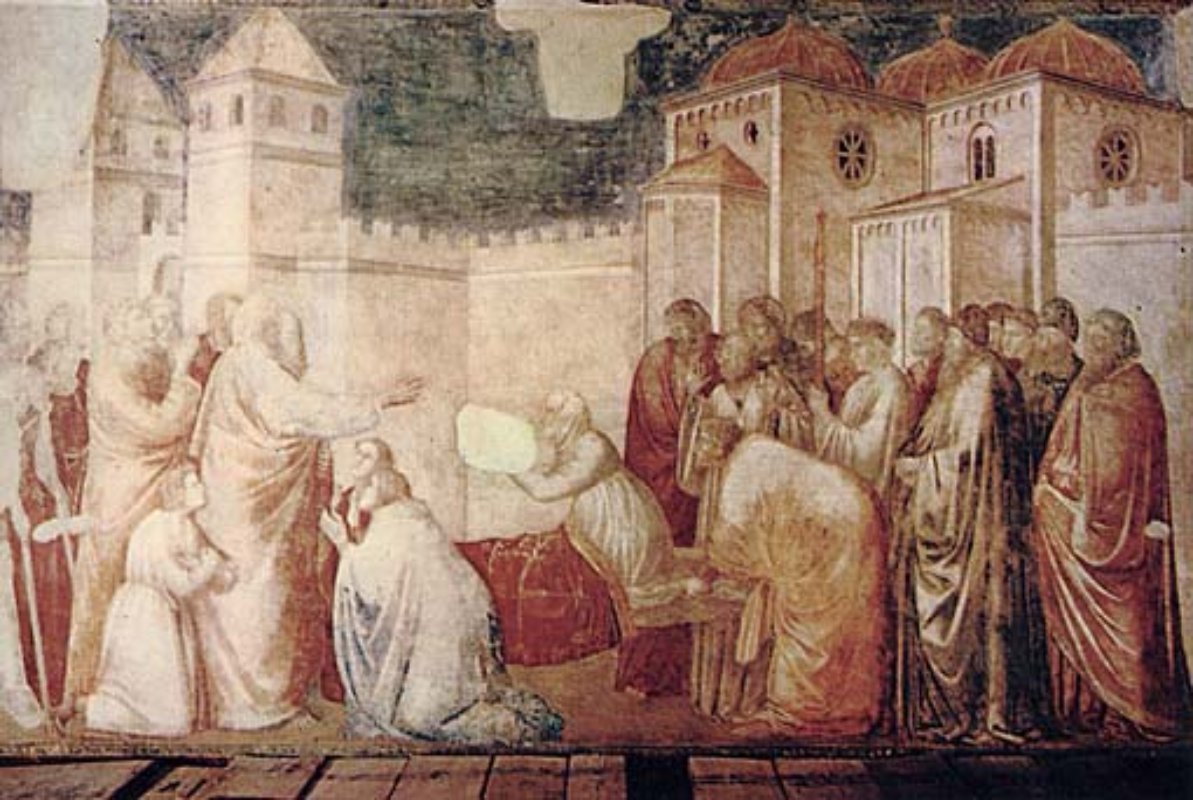 account_circleHistorical personalities
Giotto, one of Italy's most influential painters
The celebrated artist who painted Assisi's Basilica
Giotto di Bondone, more commonly known as Giotto, was born in 1267 in Vespigliano, a district located in the Municipality of Vicchio. He died in Florence in 1337. Though he came from a family of peasants, Giotto had a strong passion for painting and he began to frequent the workshop of the famed painter Cenni di Pepi or Cimabue.

Together with Cimabue, Giotto visited Rome and Assisi where he later worked for a long period of time. In fact, visitors to the capital of the Umbria Region can see his 13th century fresco cycle called 'The stories of Issac'. In the basilica, Giotto also painted 'Stories of the Old and New Testament', which can be found on the superior portion of the nave. Between the 13th and 14th centuries he also created a splendid painting cycle called 'The stories of Saint Francis'. Giotto's period of greatest splendor, however, was at the beginning of the 14th century when the painter returned to Rome after his stay in Assisi.

During his Roman period, Giotto created numerous paintings which were probably commissioned by the Church during the Jubileum of 1300, promoted by Pope Boniface VII. By this time, Giotto had become well-known all over Italy. At the age of 30, he had his own workshop and was commissioned many important works by the most illustrious figures of his time. After staying in Florence for a brief period of time, Giotto travelled to Rimini where he painted the 'Cross' which is now part of the monument known as the 'Malatestiano Temple'. Later, he travelled to Padua before returning to Rome and Florence once more, where he frescoed myriad monuments like the Church of Santa Croce, the Peruzzi Chapel and the Bardi Chapel.

Giotto's works and techniques proved deeply influential for Italian art. His sacred subjects are always characterized by a high level of expressiveness and human depth. Giotto's scenes, which are almost all set in nature, are known for their strong chromatic variations. His style, re-adopted by numerous other painters, was extremely important to the development of the Italian tradition.

Vicchio
Vicchio is remembered by the inhabitants of the area for being one of the strongholds of the partisan resistance during the Second World War
The area of Vicchio has been populated since ancient times, but the beginning of the town's events is ascribable to the end of the XIII century, when Florence started creating the so-called "new lands" in Mugello in order to take control of these areas and put an end to the feudal power of the Ubaldini family. ...
Morekeyboard_backspace
You might also be interested in