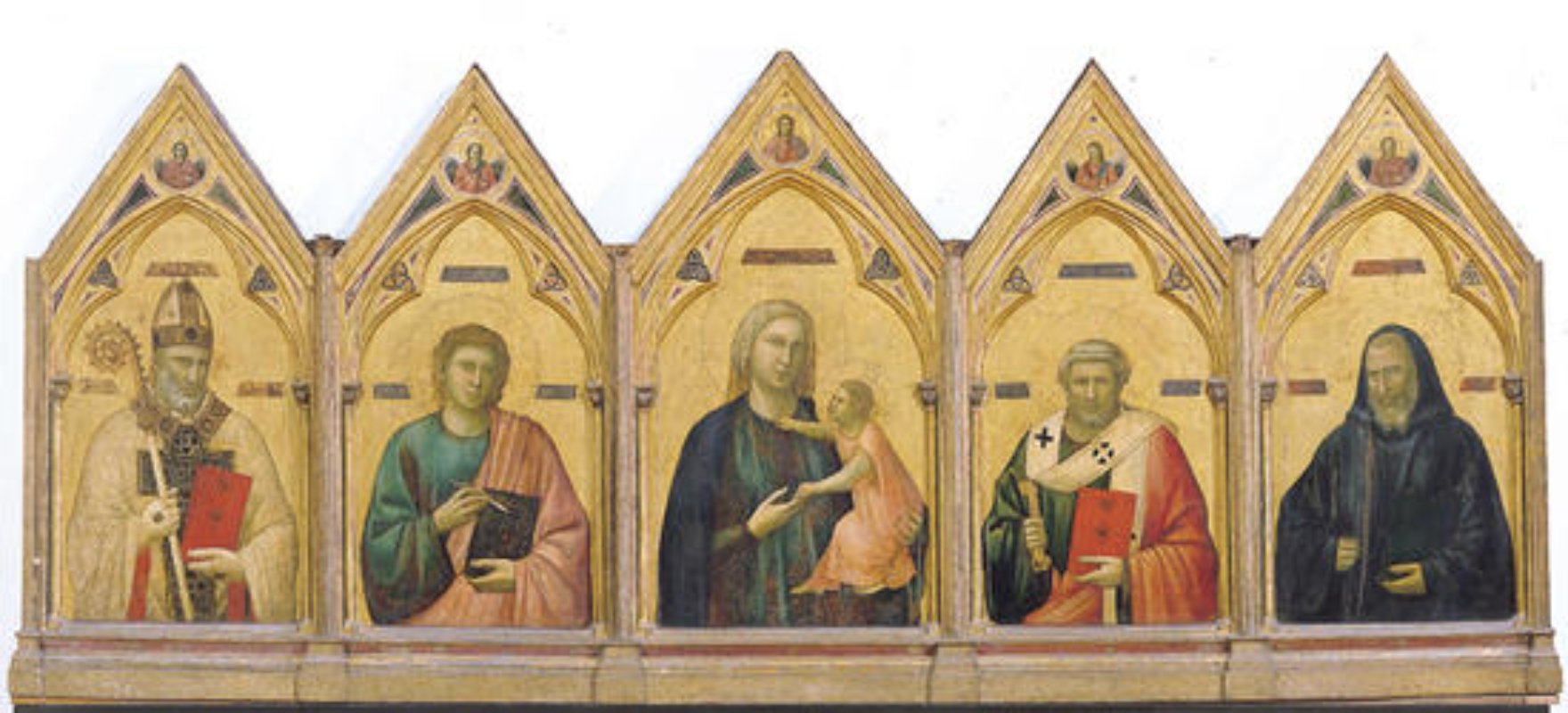 crop_originalArtworks
Giotto, Madonna of San Giorgio alla Costa
Located at the Florence's Museo Diocesano in Santo Stefano al Ponte
This little oil on canvas painting is an early work by Giotto that takes the name of the church in which is had been conserved until a few decades ago - San Giorgio alla Costa. For many years, it was left in the storage area of the Diocesan museum antiguous to the church of Santo Stefano al Ponte in Florence, where it was damaged on May 27, 1993 in a mafia bombing on via dei Georgofili (right next to the Uffizi) that claimed the lives of five people. It was restored by experts at the Opificio delle Pietre Dure in Florence.

During its restoration, the painting was cleaned and parts mended with chromatic solutions. Experts purposefully left a tear in the left corner in the canvas, caused during the bombing, as testimony to the horrible event that shook Florence. The shape of the painting today is not that of the original: the triangular cusps were cut off, as were the sides of the painting. This artwork was attributed to Giotto only in 1939 by German art critic Robert Oertel.

In the painting, the Virgin Mary is sitting on a marble throne. The painting has a three-dimensional feel. Here, Giotto distances himself from the Byzantine style of painting which characterized art in those years. Indeed, the Virgin Mary is wearing the traditional red veil, but a few locks of hair are falling onto her shoulders. The gold engraved decorations are of particular relevance: some say this aspect was inspired by a mix of both Arabic writings and the French gothic style. Giotto's early style is evident in this work, and can be linked to his frescos in Assisi, the Crucifix in Santa Maria Novella and the fragment in Borgo San Lorenzo. The date of its execution, therefore, cannot be far from the date of the frescos in Assisi. Many believe it was completed in the late 13th century.

Museo Diocesano di Santo Stefano al Ponte, Firenze
Piazza Santo Stefano, 5, Firenze
Tel: 055 276351
The museum is currently closed to the public.

Florence
An astonishing city of art, fashion and tradition
If you are visiting Tuscany you cannot miss Florence. The Renaissance city is a treasure trove of art with an astonishing contemporary vibe. Beyond the extraordinary artistic heritage, a testimony to its centuries of civilization, the best way to enjoy Florence is to stroll along the riverside avenues at sunset, or to get lost among the city's myriad alleyways of the bohemian Oltrarno or the ...
Morekeyboard_backspace
You might also be interested in