crop_originalArtworks
Giotto Crucifix in Santa Maria Novella
With this cross, Giotto modified the 13th-century model of the Dying Christ on the Cross
After a long period of restoration carried out by the Opificio delle Pietre Dure, Giotto's Crucifix has been returned to the central nave of the Santa Maria Novella church in Florence. The work is made of tempera, oil and glass on wood, and measures 578x406 cm. During restoration, scholars have been able to confirm that the cross was made originally for the Dominican church. For centuries, it was positioned in the counter façade and thus less visible to both art experts and the parishioners. Only thanks to a large exhibition on Giotto in 1937 did the Crucifix attract the attention it deserved from the art world.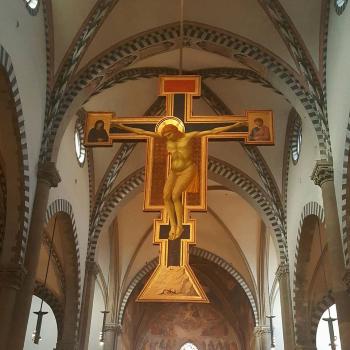 The work is characteristic of Giotto's style: the concreteness of the figures, particularly that of Christ, who seems 'weighed down' by death, his muscles tense and stomach sagging. By comparing this work with the artist's other paintings, and especially his other crucifixes, scholars suspect Giotto may have painted the Santa Maria Novella crucifix in his early years. On the other hand, the iconography is perhaps the most interesting aspect of this artwork. With this cross, Giotto modified the 13th-century model of the Dying Christ on the Cross, exemplified in the artworks of Cimabue and Giunta Pisano.
In the works of his predecessors, the bi-dimensional figure of Christ is much more slumped on the cross and the two nails at Christ's feet are different. Giotto changed this model, after he saw the change in sculptures by Nicola and Giovanni Pisano. In Giotto's new model of the Dying Christ, he overlapped Christ's feet, making this the point in which Christ's physical and moral sufferance converges. He also included the trilingual inscription (in Greek, Hebrew and Latin) at the top of the cross. On the extremities of the arms of the cross, he painted the Virgin Mary and Saint John. At Christ's feet, there is the image of the hill of Calvary and the skull of Adam.
Florence
An astonishing city of art, fashion and tradition
If you are visiting Tuscany you cannot miss Florence. The Renaissance city is a treasure trove of art with an astonishing contemporary vibe. Beyond the extraordinary artistic heritage, a testimony to its centuries of civilization, the best way to enjoy Florence is to stroll along the riverside avenues at sunset, or to get lost among the city's myriad alleyways of the bohemian Oltrarno or the ...
Morekeyboard_backspace
You might also be interested in