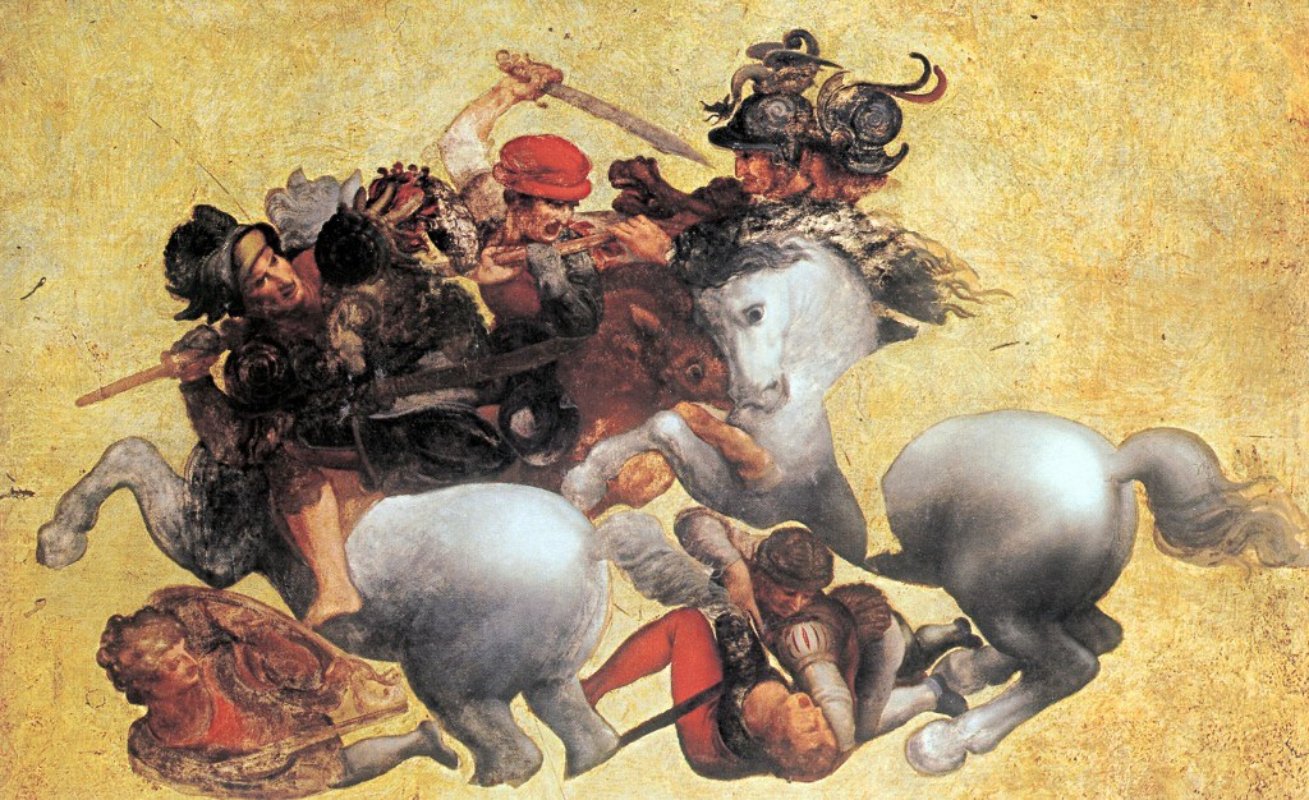 crop_originalArtworks
Leonardo da Vinci's Battle of Anghiari
A lost fresco whose traces may be located behind a wall in Florence's Palazzo Vecchio
Many have tried to discover the mystery behind this lost artwork in Florence's Palazzo Vecchio, started by Leonardo da Vinci on June 6, 1505, and never completed.
It was later lost, probably due to the renovation work done to the Salone dei Cinquecento in the mid-1500s by architect Giorgio Vasari. The Battle of Anghiari depicts the victory scenes of the battle between Florence and Milan on June 29, 1440. The Florence victory was to be immortalized on the city's imposing town hall. Due to bad weather conditions, Leonardo had to stop work on the fresco almost immediately. In fact, he never ended up completing it. Many of his sketches of the battle scene were also lost, although there are approximately 15 drafts with Leonardo's signature that have survived. These documents attest to the existence of the fresco. Da Vinci's Battle was supposed to face another large artwork, located on the opposite wall of the Salone, which was to be 15 meters squared in size.
The first person to write about da Vinci's Battle of Anghiari was Florentine writer Anton Francesco Doni in 1549. Doni described the work as something "miraculous" in a letter he had written to a friend in Venice.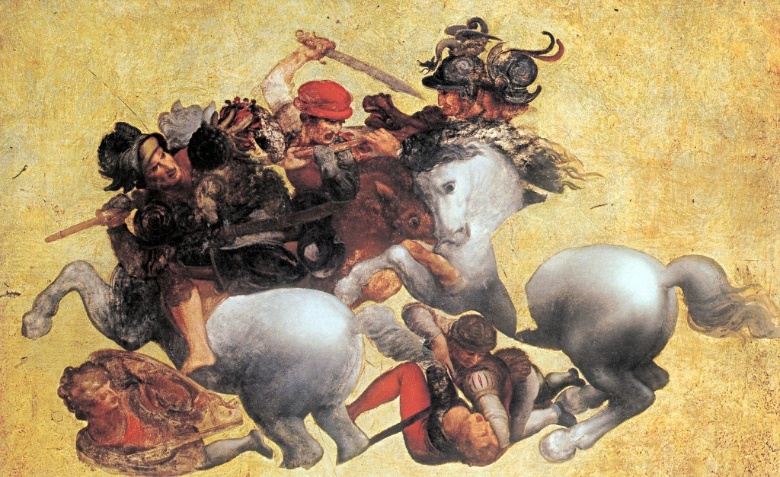 More recently, much study and research has been done to reveal whether parts of the fresco exist, and if they can be retrieved. In 1979, two American scholars, Travers Newton and John Spencer, from Duke University removed a two-meter piece of Vasari's fresco, depicting the Battle of Marciano, in an effort to find parts of the lost da Vinci artwork, believed to be hidden under the Vasari fresco. They were not successful, however.
In 2005, a hidden wall was discovered in the Salone dei Cinquecento, and officials believe it may still hold parts of the lost work. Soon thereafter, Maurizio Seracini, an engineer who has been looking for the fresco for the last 30 years, announced that a cutting-edge laser scanner, thermal and electronic probe had been invented, and that these instruments could help find the lost masterwork. Seracini believes that Vasari had constructed a thin wall in an effort to conserve da Vinci's incomplete fresco. In Fall 2011 exploratory work commenced to find the lost fresco.
Florence
An astonishing city of art, fashion and tradition
If you are visiting Tuscany you cannot miss Florence. The Renaissance city is a treasure trove of art with an astonishing contemporary vibe. Beyond the extraordinary artistic heritage, a testimony to its centuries of civilization, the best way to enjoy Florence is to stroll along the riverside avenues at sunset, or to get lost among the city's myriad alleyways of the bohemian Oltrarno or the ...
Morekeyboard_backspace