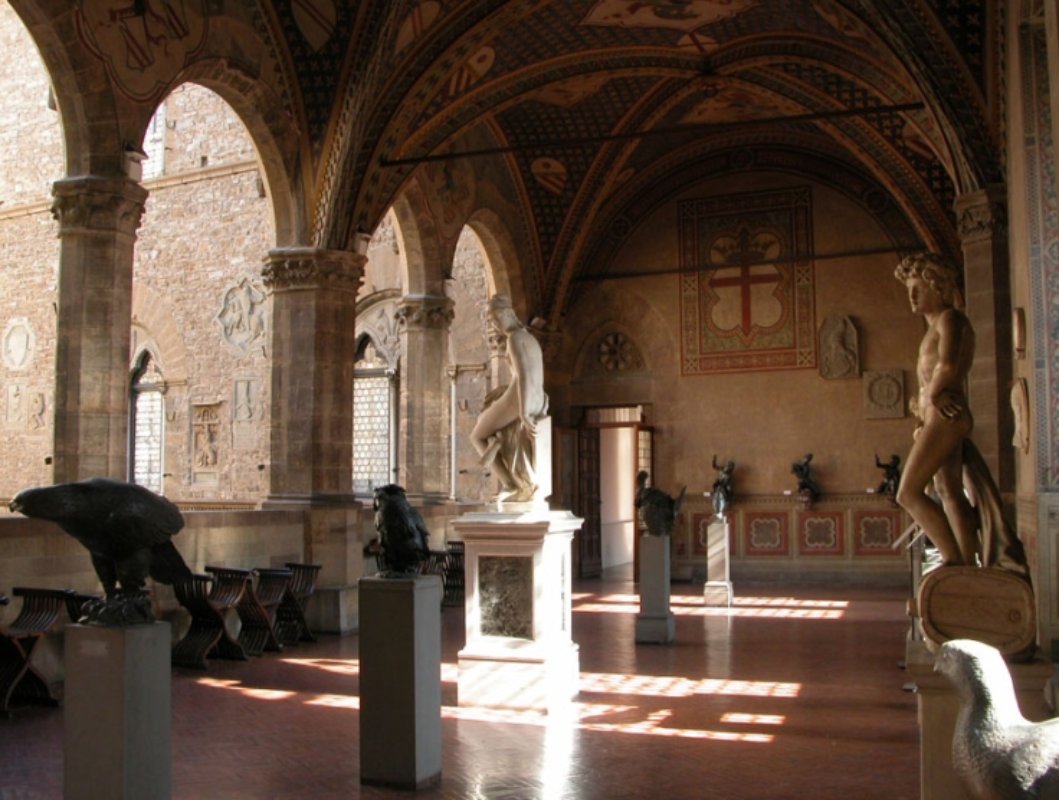 crop_originalArtworks
Florence, Bargello Museum, Luca della Robbia, Madonna del roseto
Luca della Robbia was a ceramics master and Italian sculptor
This Madonna del Roseto, a late work by Luca della Robbia, is a pleasant composition, but, as the art historian Roberto Longhi says, it is still infused with "medieval classicism". It adheres to the reality of actions, forms and feelings, and not to the fine representations of linguistic signs. The linear rhythm and courtly simplicity of the structure becomes a clear contemplation of truth, which was ultimately alienated from formal details.

The sculpture is located in the Bargello Museum in Florence.

Luca della Robbia (Florence,1400-1481) was a ceramics master and Italian sculptor. He was the first artist to have brought ceramic art to the same level as the other figurative and visual arts. In his works, like the highly refined Madonnas, portraits are in the form of busts and sacred scenes. They often have the beauty and expressiveness of other contemporary works by della Robbia's great peers of the epoch, like Donatello, Verrocchio and Sandro Botticelli.
In 1414, Luca began his training in the workshop of Nanni di Banco. A year later, he travelled to Venice to learn the art of glass blowing, mosaics and terracotta. After the death of Nanni di Banco, he moved to Donatello's workshop, where he became friends with Brunelleschi.
In 1427, he learned to work gold and make wax sculptures. In 1432, he enrolled in the school, Arte dei Maestri di Pietra e di Legname, and became a master sculptor. In 1439, he renounced sculpture and dedicated himself entirely to ceramics. This is when he began working for the Medici family, who commissioned many works of a religious and sacred theme. His artworks can be seen in many churches in and around Florence.
He died in 1481 of kidney failure, and was buried in the San Pier Maggiore church, which was demolished in 1783.
Bargello National Museum

Via del Proconsolo 4 - Florence
Telephone: 055 2388606




For advanced reservations:

Firenze Musei, Tel. 055 294883, costs € 3,00 per person (€ 4,00 per/for Galleria Uffizi or/and Accademia); School groups: Tel. 055  290112. On-line ticket sales: www.firenzemusei.it.


Florence
An astonishing city of art, fashion and tradition
If you are visiting Tuscany you cannot miss Florence. The Renaissance city is a treasure trove of art with an astonishing contemporary vibe. Beyond the extraordinary artistic heritage, a testimony to its centuries of civilization, the best way to enjoy Florence is to stroll along the riverside avenues at sunset, or to get lost among the city's myriad alleyways of the bohemian Oltrarno or the ...
Morekeyboard_backspace
You might also be interested in