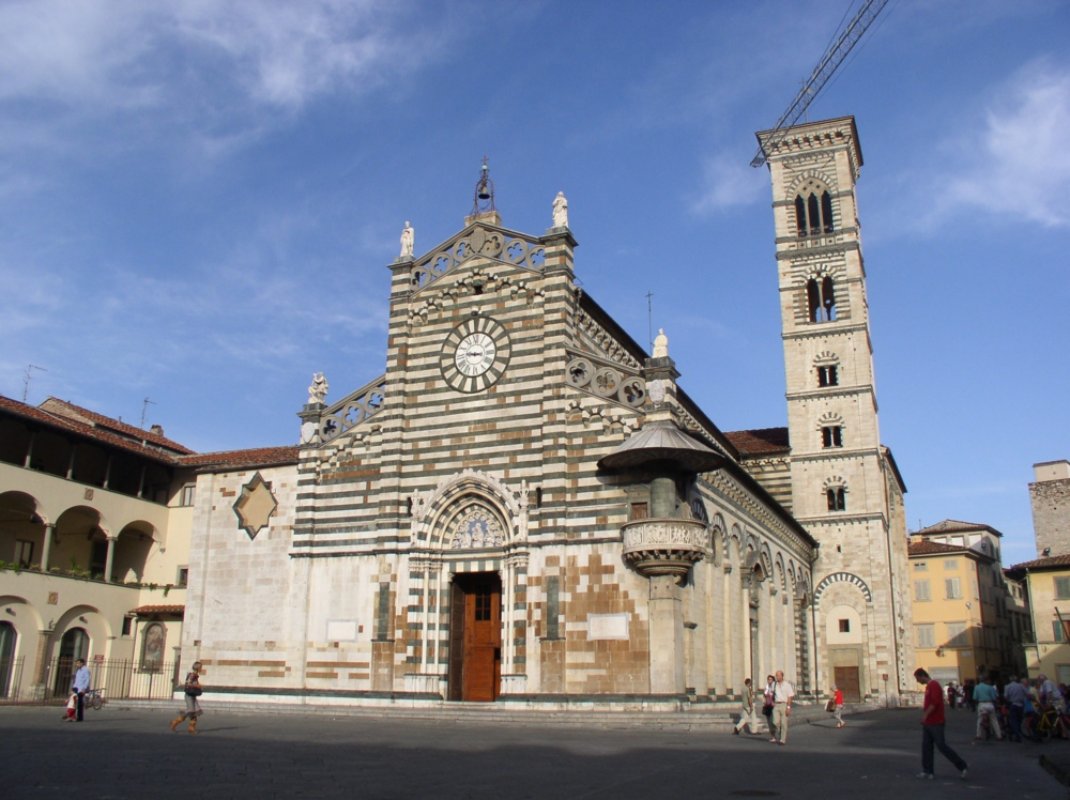 crop_originalArtworks
Filippo Lippi, The Funeral of Saint Jerome
This altarpiece is on display in the Museo dell'Opera del Duomo in Prato
This masterful altarpiece shows the Provost of Prato, Germiniano Inghirami, patron and purchaser of many frescoes, such as those in the Cappella Maggiore di Santo Stefano. The altarpiece was commissioned around the year 1455 to decorate the altar of the church of Santo Stefano, or Prato Cathedral.
Inghirami is shown in the painting in the foreground, kneeling before the platform holding Saint Jerome in the centre of the painting. The saint is swathed in rich red cloth. Next to him is a disabled person who has been healed, a direct reference to the cripple painted by Masaccio in the scene showing San Pietro in the Brancacci chapel.
The altarpiece also shows a group of monks in movement who form a crown around the body of the saint which lays on a rich cloth. This cloth, interwoven with pomegranates, is also used in another work of art by Desiderio da Settignano. In the upper part of the altarpiece is a group of angels. Here it's possible to recognise the hand of Fra Diamante. Underneath the angels there are scenes from the life of the saint which were painted by members of the artist's workshop. This painting stands out for its use and range of chromatic colours. The varying shades of grey represent the emotional tone and pain of the people in the painting.
Prato
In the heart of Tuscany, a city of art and prestige
If there is one city that can impress those looking for lesser-known destinations, it's Prato. Considering how the city is presented in the press, visitors will be surprised to discover an elegant and well-preserved historic city centre, as impressive as the most famous Medieval cities dotting Tuscany. ...
Morekeyboard_backspace
You might also be interested in