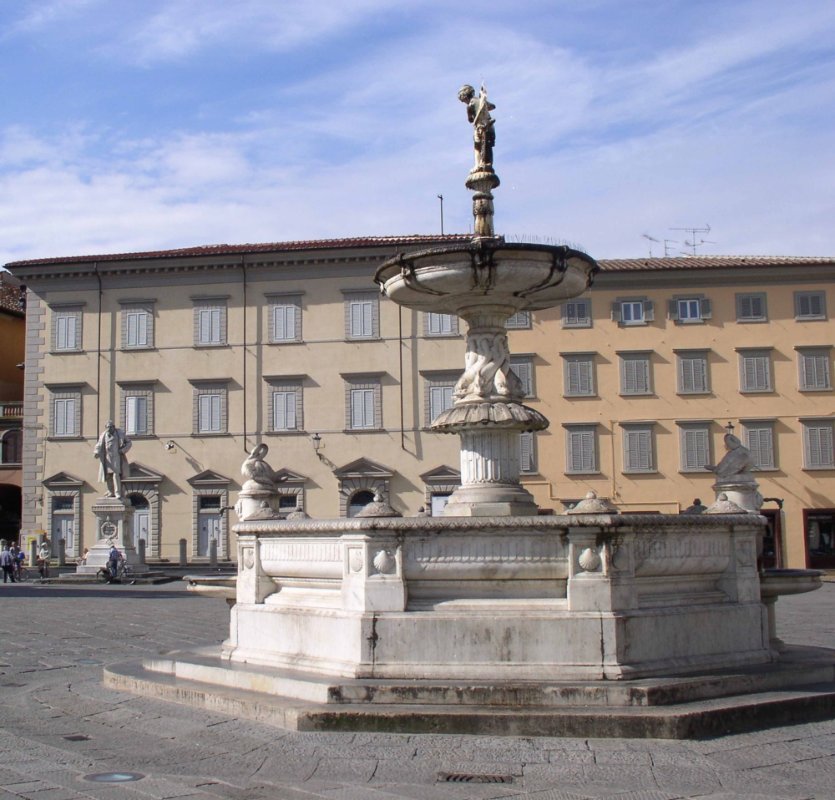 crop_originalArtworks
Filippo Lippi, The Annunciation in the presence of San Giuliano
On display in the Museo Civico (Civic Museum) in Prato
The Funeral of Saint Jerome, by Filippo Lippi

The Annunciation in the presence of San Giuliano was painted in the later part of the fifteenth century by Filippo Lippi. The Virgin, who is on the right hand side of the painting is kneeling in a position of worship with her hands together in prayer and her gaze looking upwards. The Archangel Gabriel and Saint Julian (San Giuliano) are before her. Mary's dress is purple red and cobalt blue and is decorated with golden piping. The scene takes place inside a building and the arched ceiling draws the gaze to the next room. The pattern of the floor tiles increases the painting's sense of depth and perspective.

It isn't known exactly who bought this painting; it may have been the San Giuliano hospital who wanted it as part of a private collection, or if perhaps it belonged to the Spedale della Misericordia. The artist stayed at this hostel in 1455 and may have painted the it as payment for his board and lodgings there. There is an almost identical version of this painting by Fra Diamante in the Musée du Petit Palais in Avignone and a later replica by a local artist in the Museo dell'Opera del Duomo in Prato.









Prato
In the heart of Tuscany, a city of art and prestige
If there is one city that can impress those looking for lesser-known destinations, it's Prato. Considering how the city is presented in the press, visitors will be surprised to discover an elegant and well-preserved historic city centre, as impressive as the most famous Medieval cities dotting Tuscany. ...
Morekeyboard_backspace
You might also be interested in