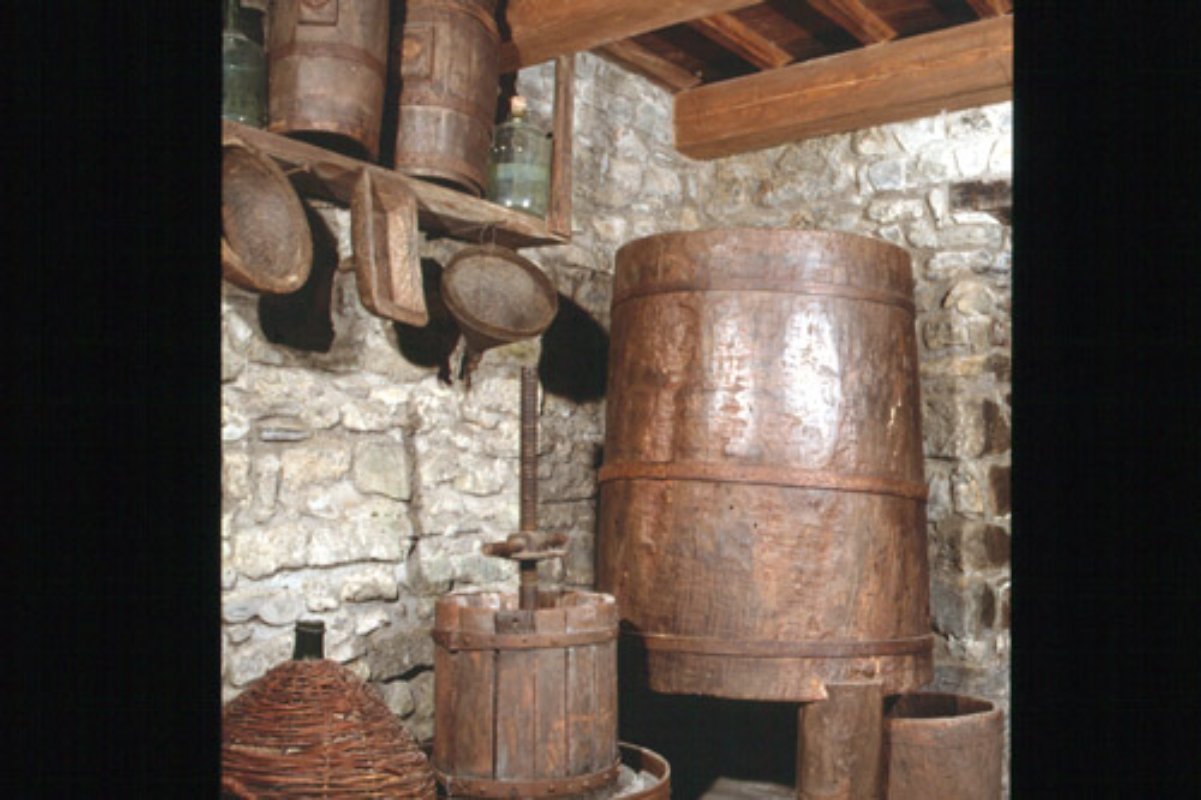 account_balanceMuseums
Ethnographic Museum Don Luigi Pellegrini
One of the most important collections of material culture in Italy
The
Don Luigi Pellegrini Ethnographic Museum
is housed in the medieval Hospital of San Pellegrino (XI-XII century) where travellers and pilgrims crossing the Apennine along this route could find shelter and assistance. It is one of the most important collections focusing on material culture in central Italy. The exhibits reflect the traditions of the artisans, peasants and shepherds of the
Serchio Valley
and the Tuscan and
Emilian Apennines
from the beginning of the XIXth century until today. The Exhibition is divided into 14 rooms dedicated to different topics, from the reproduction of the interiors of a peasant house (its kitchen, cellars, bedrooms) to the representation of production cycles (planning, spinning and weaving, cheese making). A great number of tools shows the work on a farm (ploughing, harvesting, processing and conservation of different products), as well as that of the artisans with the reproduction of a blacksmith's, a joiner's workshop and a candle factory.
Historical information:
Between 1960 and 1970 Don Luigi Pellegrini collected material for an exhibition that, with its
over 4,000 exhibits,
would be representative of a rural culture that has now nearly completely disappeared. The success of this exhibition together with the restoration works on the ancient Hospital promoted by the Monuments and
Fine Arts Office of Pisa
allowed the opening of further exposition rooms. Some are particularly interesting on account of their unique character, for example the spinning and weaving room with its large hand driven looms and samples of cloth, the cobbler's reproducing the workshop of a shoemaker from the nearby village of Chiozza, the blacksmith's and the carpenter's with all their old instruments. A workshop with its set of tools and rare ingenious devices well illustrates the art of candle-making for household and religious uses.
The Museum was donated in 1984 to the
Province of Lucca
that is now responsible for its management and activity of research.
District: Castiglione Garfagnana
via del Voltone, 14
Telephone number: 0583-649072; 0583-417297
Fax number: 0583-649072
Summer hours:
1 June/30 September 9.30 a.m.-1 p.m. and 2.30 p.m-7 p.m.. Closed Mondays except in July and August and holidays.
Winter hours:
1 October/31 March: weekdays 9 a.m.-1 p.m., Sundays and holidays 9 a.m.-12 and 2-5 p.m.
1 April/31 May: 9 a.m.-12 and 2-5 p.m.. Closed on Mondays
Entrance:
Euro 1.55 adults; Euro 0.52 school groups
General information:
Facilities for handicapped: yes (only first hall)
Guided tours: Upon request
Bibliography:
- AA.VV., Il museo di San Pellegrino in Alpe e l´affresco di Luciano Guarnieri, Amministrazione provinciale di Lucca-Centro Tradizioni popolari, Lucca, 1987
- Biagioni P.L., Il Museo etnografico di San Pellegrino in Alpe, Lucca 1990
Source:
http://luccapro.sns.it
Castiglione di Garfagnana
A walled village that holds its thousand-year history intact
While the history of Castiglione di Garfagnana has always been linked to its military camp, the town actually dates to Roman times when a primitive Castrum was installed here, which developed in the Longobard and Frankish eras. ...
Morekeyboard_backspace
You might also be interested in