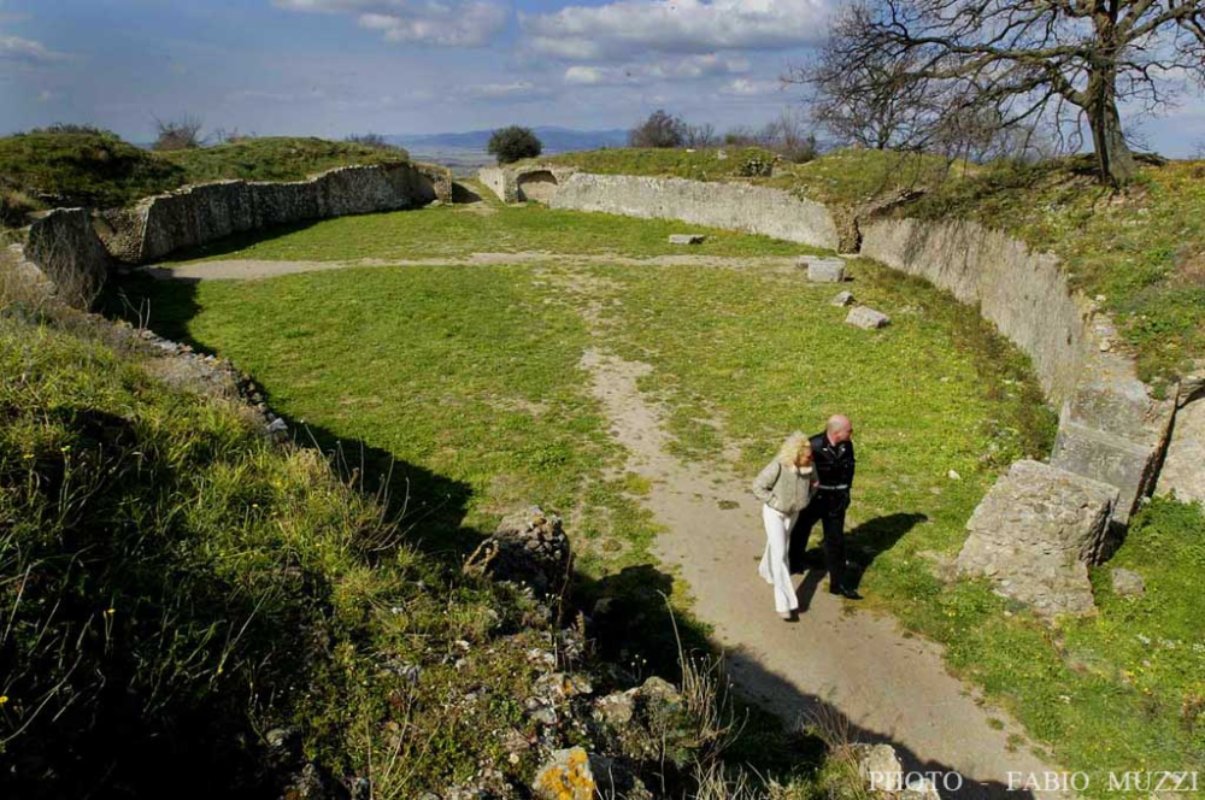 Historical sites
Discovering Roselle's archaeological treasures
Exploring the remains of the Etruscan civilization
Roselle
is located 8km north of Grosseto and it was once one of the most important cities of Etruria. It became a Roman colony at the end of the 3rd century BC and was then abandoned in the Middle Ages when its population moved to Grosseto. After some sporadic exploration, which occurred toward the end of the 19th century, a more in-depth archaeological dig in 1942 brought to light the remains of the city. The Superintendent for the
Archaeological Heritage of Tuscany
carried out a noteworthy restoration project in 2003-2004 which made it possible for tourists to visit most of the structure's encircling wall. Excavations have revealed 3km of walls, including a 5m-high segment created with polygonal masonry, which is thought to have been built between the VI and II centuries BC. One can also see the remains of the Roman city, including the forum, the cardus maximus, the imperial basilica and several aristocratic villas. On one of the hills, you'll be able to spot a small amphitheatre and thermal baths. Recent in-depth digs have revealed an urban infrastructure from the late archaic period, complete with residential buildings and artisan workshops from the VII and VI centuries BC.
Opening hours:
November-February, Monday to Friday, 8:30am to 5:30pm; May-August, Monday to Friday, 8:30am to 7pm; March, April, September, October, Monday to Friday, 8:30am to 6:30pm
Admission:
Full price: 4,00 €; Reduced rates (youth aged 18-25): 2,00 €
Free entrance for those under 18 or over 65 and for member card holders.
Accessibility:
partial
Contact information:

Via Dei Ruderi – Roselle
GROSSETO (GROSSETO)
Tel. 056/4402403
www.archeotoscana.beniculturali.it/index.php?it/209/grosseto-area-archeologica-di-roselle
Grosseto
Strolling through the Maremma's main city
Grosseto is a beautiful city nearly on the edge of the Tuscan region. It is known as the political and cultural center of the Maremma – Tuscany's wilder, coastal territory, often overlooked by tourists. It's an ideal base for exploring the surrounding hilltops and sea sections, and has a family-friendly tranquility, as well as unexpected surprises. ...
Morekeyboard_backspace
You might also be interested in