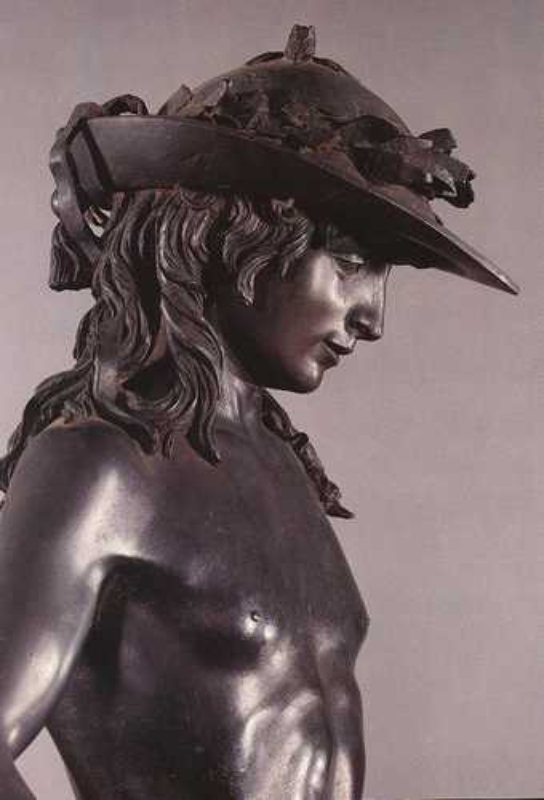 Monuments
David by Donatello
Donatello is a sculptor that cannot be easily classified in a single category
His strong personality, which perennially tends toward the experimental, led him almost immediately to experiment with the major stylistic elements of Renaissance art, and its relation to the problem of representation and the anatomical representation of the human form. If one looks at the corpus of his artwork as a whole, Donatello seems a disquieted person, whose style is always precarious. However, more often than not, his works indeed have a few surprises in store. This David, one of the artist's most renowned works, is surprising because it depicts a type of classical-style heroism that seems to definitively break away from the past, and pave the way for the Renaissance sculpture of the future. Although Donatello returns to formal solutions that are closer to the gothic style than to the Renaissance style, his David is less muscular than in sculpture of San Giorgio. This work, thus, uses both gothic and Renaissance stylistic elements. For this reason, it is one of the most elegant of all his artworks.
Florence
An astonishing city of art, fashion and tradition
If you are visiting Tuscany you cannot miss Florence. The Renaissance city is a treasure trove of art with an astonishing contemporary vibe. Beyond the extraordinary artistic heritage, a testimony to its centuries of civilization, the best way to enjoy Florence is to stroll along the riverside avenues at sunset, or to get lost among the city's myriad alleyways of the bohemian Oltrarno or the ...
Morekeyboard_backspace
You might also be interested in