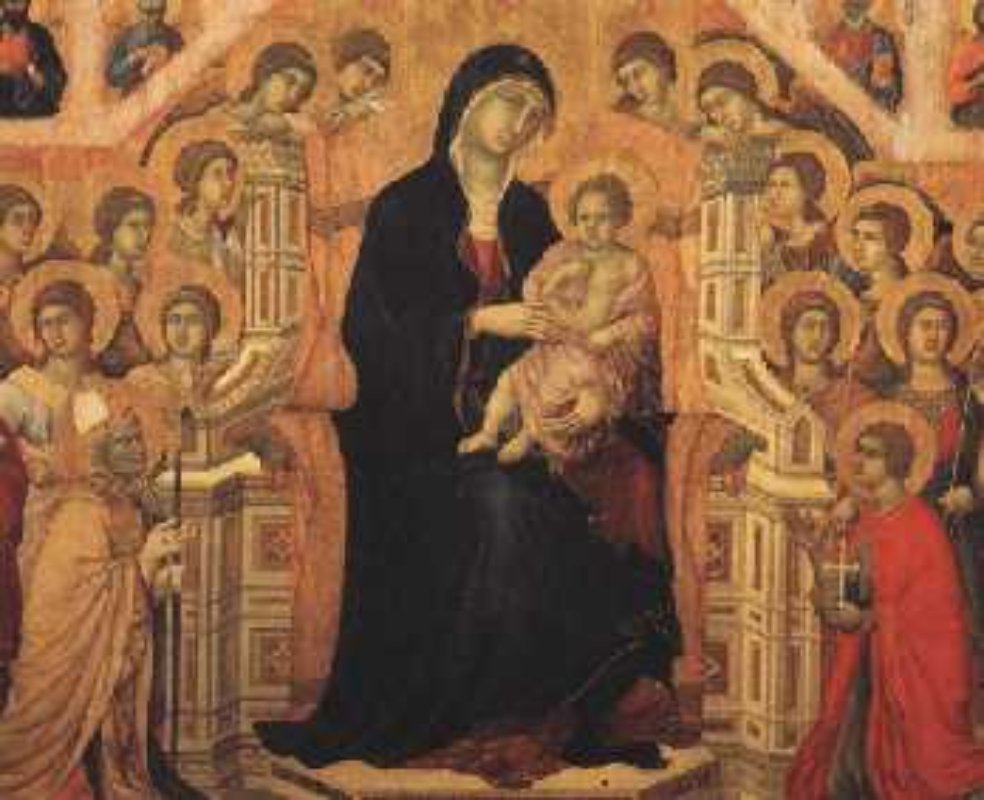 crop_originalArtworks
Crevole Madonna, Duccio di Buoninsegna
At the Museo del Duomo di Siena
Duccio was born in Siena in 1255. He was one of the greatest painters from the Siena School in the mid-1200s. He painted the Crevole Madonna in his early years. It is now at the Museo del Duomo in Siena.

Duccio's early training is evident in this work: the schematic appearance of the drapery, the use of gold (characteristic of Byzantine style), gothic elements and the use of Byzantine iconography. While Cimabue and his counterparts attempted to render three-dimensional and volumetric works, Duccio instead turned his attention to rendering his figures and lines more elegant, and harmonizing his colors.

Although the work of Cimabue and Duccio is somewhat similar, they are often mistaken: one of Duccio's works was incorrectly attributed to Cimabue over the years (the Madonna Ruccellai that is at the Uffizi today). Duccio differs from Cimabue because he is very much influenced by the Byzantine style and his figures are not as volumetric as Cimabue's, but instead, are more elongated like the gothic style.

In 1308, Duccio was commissioned to paint a Maestà altarpiece for the Siena Duomo. It is also at the Museo del Duomo in Siena. He finished it in 1311. It is divided in 26 panels that depict the Madonna on the throne with Christ and angels, as well as scenes from the passion of Christ. The central figure is the Virgin Mary (with Christ) who does not have much volume, and seems disproportionate in relation to the other figures that surround her. Another famous work by Duccio is the Madonna of the Franciscans at the Pinacoteca Nazionale of Siena. This small altarpiece is also influenced by the French-gothic style. Duccio's painting style is characteristic of the French-gothic miniaturist paintings, the delicateness of his paint stroke, his rhythmic and linear harmony, and Byzantine iconography. Duccio died in 1318.
Florence
An astonishing city of art, fashion and tradition
If you are visiting Tuscany you cannot miss Florence. The Renaissance city is a treasure trove of art with an astonishing contemporary vibe. Beyond the extraordinary artistic heritage, a testimony to its centuries of civilization, the best way to enjoy Florence is to stroll along the riverside avenues at sunset, or to get lost among the city's myriad alleyways of the bohemian Oltrarno or the ...
Morekeyboard_backspace
You might also be interested in