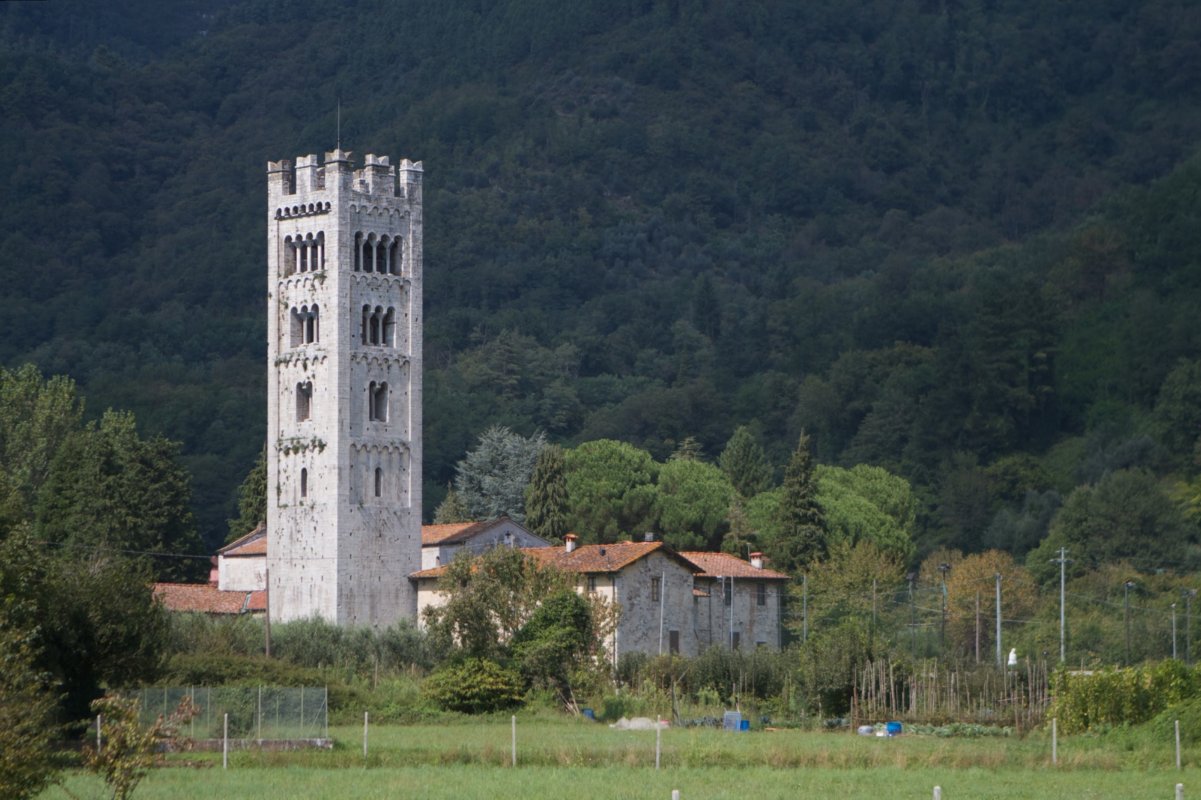 Places of worship
Church of Santa Maria a Diecimo
The gems of Lucchese history
The church of S. Maria is located along the road that follows the Serchio valley. The building is isolated from the Medieval village of Diecimo, lying to the north towards Pescaglia. The dimensions of the church are considerable and it is embellished with elaborate decorations on both the exterior and interior. The church hosts several particularly interesting features such as the figures of animals and plants in the apse and the vine-branch supported by human figures sculpted on the architrave of the main portal. Nothing remains today of the X century church: the existing building is a reconstruction which dates back to the XII and XIII centuries.
The church, built between the XII and XIII centuries, has three naves and it originally possessed a semicircular apse. The isolated bell tower is also Medieval. In the XIII century, the parish church of Santa Maria had jurisdiction over a territory that included twenty-one religious buildings and it depended directly on the bishop of Lucca. In the XVII century, the church was adapted to meet the demands of the Counter-Reformation and the new Baroque taste: a vaulted ceiling replaced the wooden trusses and rectangular windows replaced the Medieval mullioned window along the nave. In this period, a rectangular chapel on the south side was also built.

In the XVIII century, the church became part of the administration of the Republic of Lucca. It was restored between the XIX and the XX centuries, thus, recovering its original Medieval form with the removal of its XVII century additions. Its large windows were closed and the ancient mullioned window reopened. Inside the church, you can see a XII century stone slab depicting a knight, a XIII century font, a XIV century stoup and tabernacle, in addition to a XVII century pulpit.
Source: luccapro.sns.it
Borgo a Mozzano
THE TOWN OF THE MAGICAL DEVIL'S BRIDGE
Borgo a Mozzano is the first town in the Serchio Valley, famous for the Magdalene Bridge, a remarkable and visionary medieval structure, symbol of the Lucca area. The bridge, commissioned by Matilde di Canossa, is also known as the Devil's Bridge due to origins rooted in legend: to explain the asymmetrical arches, legend says that Satan helped build it, in return asking for the soul of the ...
Morekeyboard_backspace
You might also be interested in