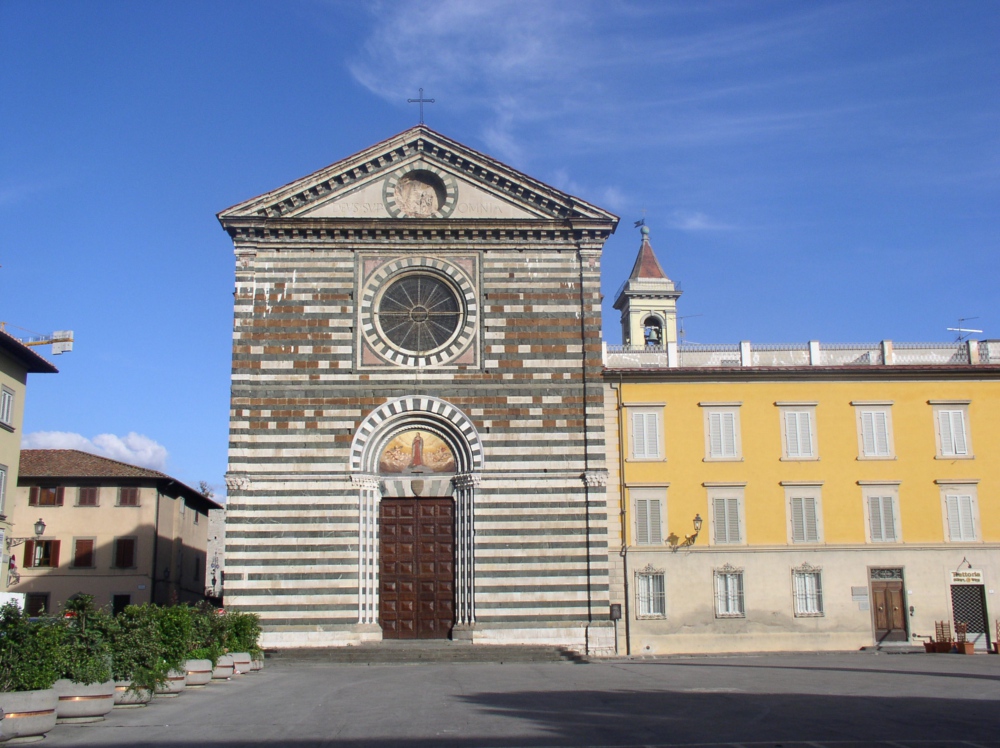 Places of worship
Church of San Francesco in Prato
The first important religious building in Prato built entirely in cotto tile
The Church of San Francesco is found in the oldest part of Prato and was built in 1282, when the municipality gave this land to Franciscan friars, who built a convent and a small church, the first in the Prato area to be made entirely from brick rather than stone.
The façade is nonetheless in polychrome alaberese and serpentine, with a Renaissance addition of an elegant portal and triangular tympanum with a relief of St. Francis Receiving the Stigmata by Andrea della Robbia.
Inside, in the single nave topped by wooden trusses, the pietra serena pulpit from the 15th century stands out, depicting the Chi Ro. Above the altar is a 14th-century Crucifix in polychrome wood donated by the merchant Francesco Datini, whose white marble tombstone, set into the church's floor, is decorated as a Gothic tabernacle.
From inside the building, you can reach the Renaissance cloister, where you can visit the 14th-century Chapel of the Capitolo on the eastern side, with frescoes by Niccolò Gerini depicting the stories of St. Matthew the Apostle and St. Anthony the Abbot and a Crucifixion. On the southern side of the cloister, you can find the entrance to the convent, where there are beautiful rooms from the early 1300s.
Prato
Explore culture from the middle ages through to contemporary art in one city
Prato is a city that never ceases to amaze and is perfect for those in search of less touristy destinations. The capital of the provincial territory of the Prato area is also the third largest city in central Italy. The city combines the ancient charm of its historic centre with the modern business and contemporary art district, in an itinerary that ranges from the Middle Ages to Avant-garde. ...
Morekeyboard_backspace