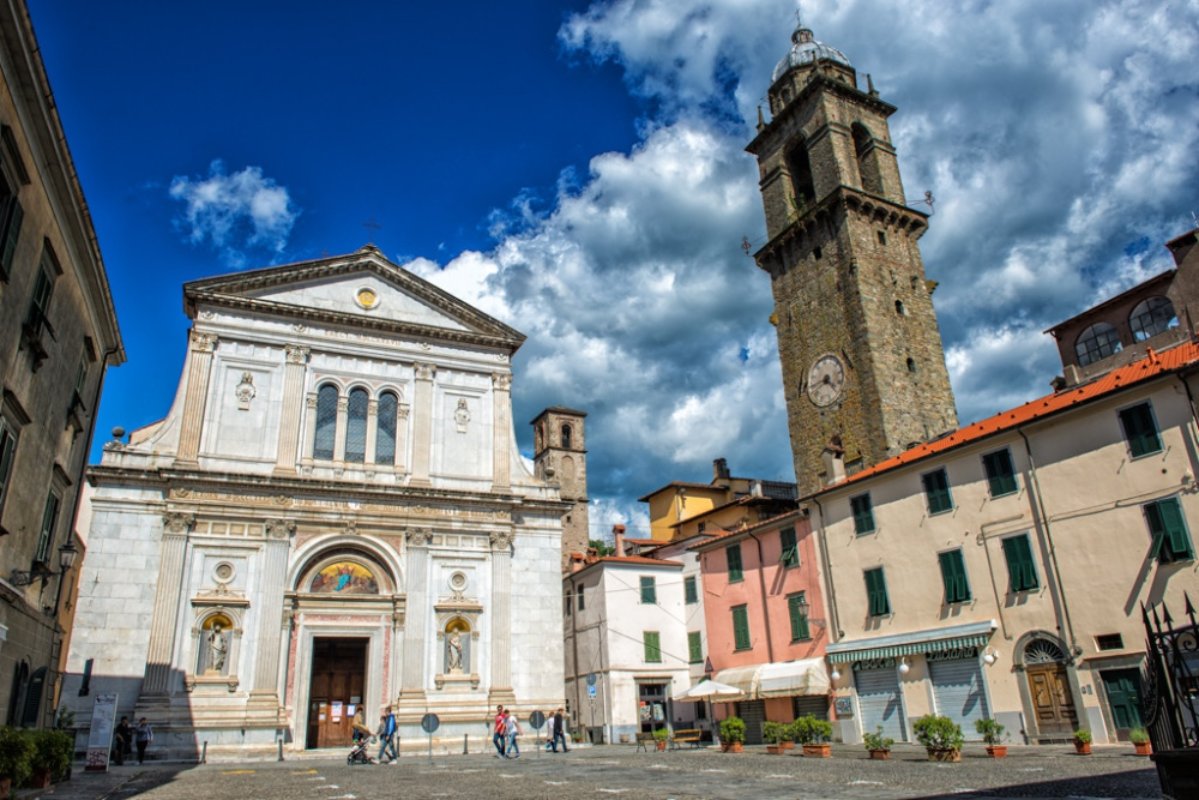 Places of worship
Church of Saint Mary of the Assumption
The Cathedral of Pontremoli was built in strict accordance with the guidelines established by the Council of Trent
This co-cathedral, dedicated to Saint Mary of the Assumption, is the most important church in Pontremoli. Its construction was sanctioned by the Council of Pontremoli on July 7, 1630, with a decree that would establish "a magnificent and noble temple able to hold many people (…) on the site of the church of Santa Maria di Piazza". Construction work began in 1636 based on architect Alessandro Capra's plan. Building took place in the area uncovered after the demolition of the former Madonna del Popolo oratory, and work ended in 1687. Recognized as a collegiate church in 1721, the church was proclaimed a cathedral on July 4, 1787, with a papal bull from Pius VI, just as the diocese of Pontremoli was officially instituted. In 1986, it became a co-cathedral of the dioceses of Massa Carrara-Pontremoli.
The church is an important example of adherence to the Counter-Reformation principles—enshrined in the Council of Trent and exemplified in various Jesuit structures. Saint Mary of the Assumption in Pontremoli follows these principles in its plan: a single, wide nave with side chapels and a short transept, with the addition of a towering, luminous dome where the arms intersect.
The frescoes of the nave vaults and in the transept, painted by Francesco Natali at the end of the 17th century, were substituted with stucco decorations during the mid-19th century. The stucco decorations in the chancel, however, can be traced back to the 18th century. The Holy Sacrament Chapel also dates back to the 19th century (1828), as does the facade (1878-1881), which architects Giovanni Pacini and Pasquale Poccianti completed, using a design by Florentine Vincenzo Micheli. The beautiful collection of paintings throughout the church are almost like an anthology of 18th century Italian painting. The real highlights are the Mary-related material in the chancel and choir: Ferretti's Birth of the Virgin, Meucci's Visitation, Peroni's Wedding and Giuseppe Bottani's Annunciation.
[For more information: www.terredilunigiana.com]
Pontremoli
Discovering ancient Apua: art, nature and traditional cuisine
Pontremoli is Tuscany's northernmost town and one of the most quintessential centers of the Lunigiana region. Set on a plain surrounded by hills and mountains, the town is a treasure trove of artistic memory and monumental relics. Crossing its medieval bridges or strolling along its paved walkways is a bit like time traveling back to a mythical age. ...
Morekeyboard_backspace
You might also be interested in