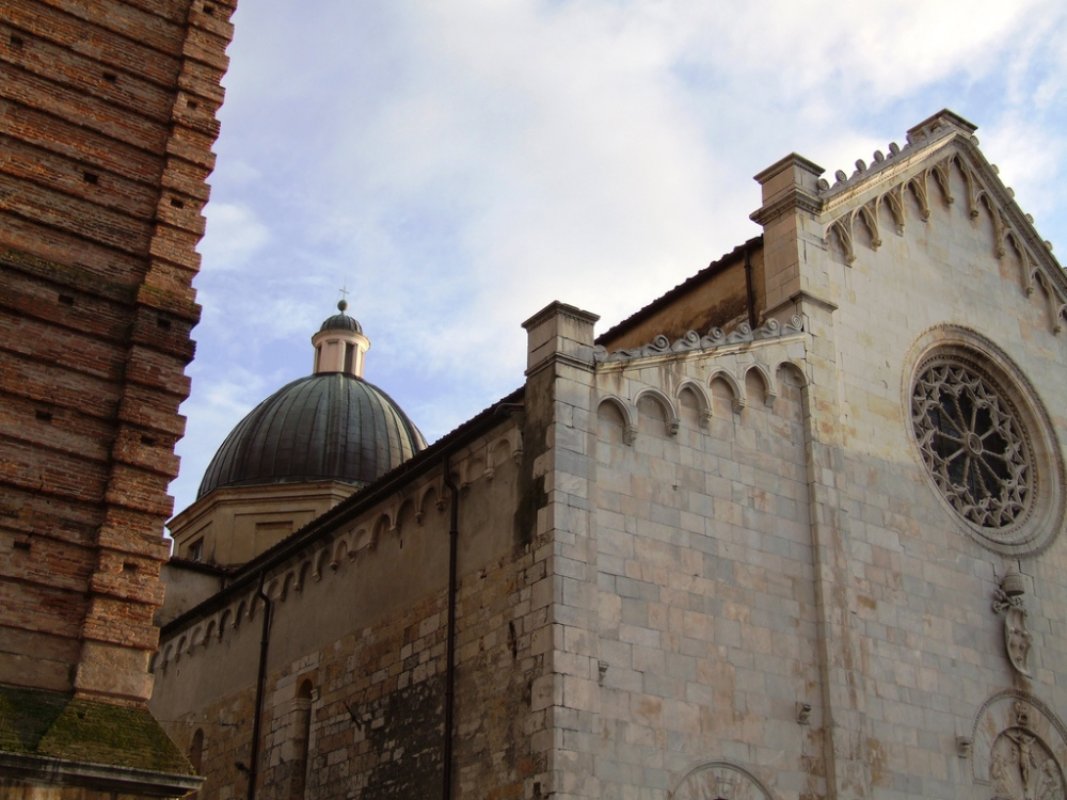 Places of worship
Cathedral of St. Martino
Built in 1256-58, it preserves a bell tower from the XV-XVI centuries and prestigious works
It is part of the convent complex of St. Agostino. The foundation dates back to the constitution of Pietrasanta in 1225. From the era it conserves part of the left transept that is still clearly identifiable in the ensemble of the wall structure of the XVI century, year of the reconstruction during the domination of Castruccio Castracani. Still noteworthy is the 14th-century building installation, with the imposing and austere three-sectioned façade, embellished by the architecture on the top and by the prestigious bas-reliefs that take the form of the pointed arch, placed as a crown on the trabeations of the entrances and representing the coat-of-arms of Pietrasanta and the dominations of Genoa and Florence.

Right on the architrave of the side door you can see the date 1330, indicating the construction of the façade. Also richly decorated is the marble rose-window that sits well in the white façade. The octagonal dome, between the transept and the main nave dates back to the second half of the 1400s, reworked in the 17th century during the importance restoration works requested by the Grand Duchess Madama Cristina di Lorena, just like the internal furnishings and the boring along the sides.

On the iridescent marble aspect of the Church the high bell tower imposes itself in red bricks, started at the end of the XV century and never finished. The bare aspect owing to the lack of marble covering should not deceive however, as it hides a real masterpiece: the extraordinary helicoidal staircase that runs vertically inside it.
Source: Versilia Tourist Information Office
Pietrasanta
Land of artists and marble workers between the Apuan Alps and the sea
This appealing little town is rich in cultured and elite tourism. Pietrasanta is also known as the "little Athens" of the Versilia region thanks to the high concentration of artists that decided to put down roots there. The town also has a long standing tradition of expert marble workers, and the surrounding Apuan Alps remind us of this tradition. ...
Morekeyboard_backspace
You might also be interested in