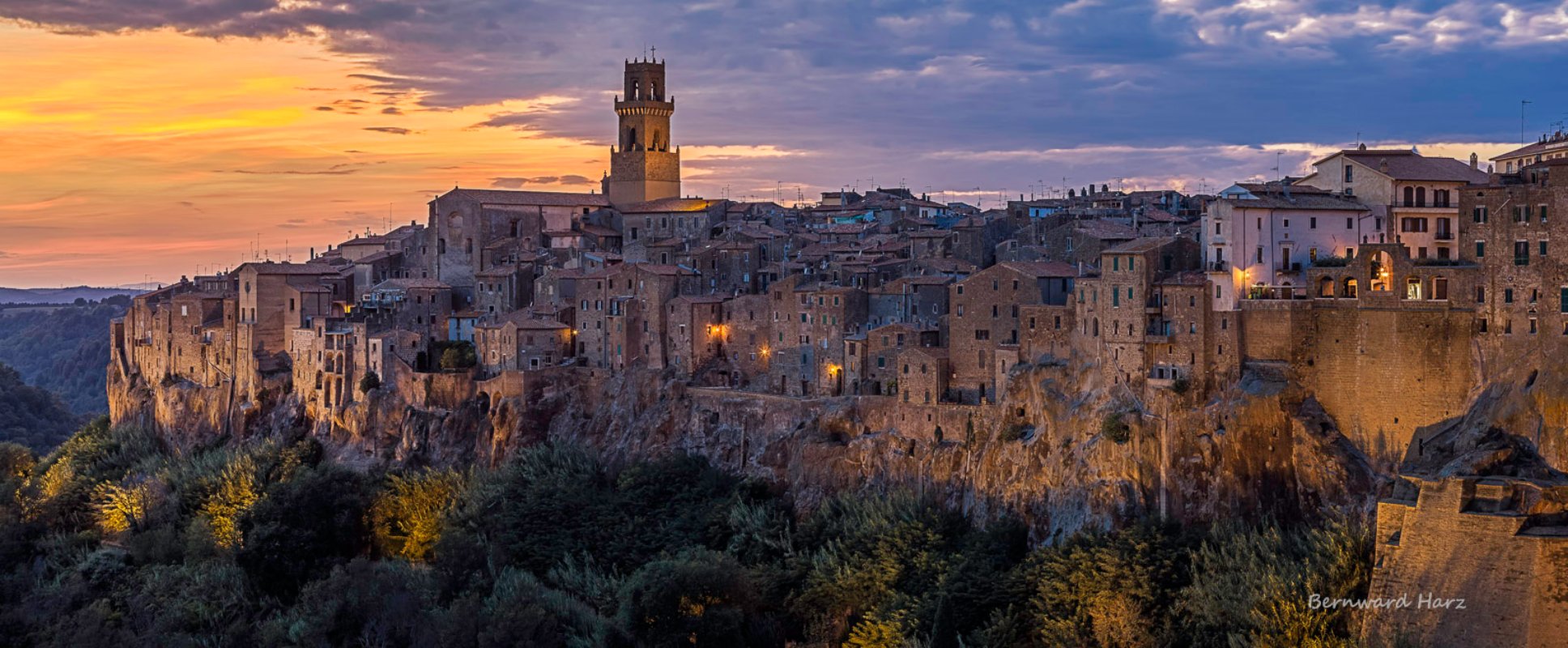 Places of worship
Cathedral of Saints Peter and Paul
The cathedral's bell tower was originally used for civil and military purposes
The earliest mention of a church named for Saints Peter and Paul in Pitigliano dates to 1061. In 1276 three churches are noted: San Giovanni, Santa Maria and San Pietro. The latter subsequently became a "collegiate" church and was named after the saints Peter and Paul. It was restructured several times, especially in 1509 according to the wishes of Niccolò III Orsini, count of Pitigliano.
The facade is divided into three of four large pilasters. At the sides of the 16th-century travertine doorway, topped with eighteenth-century stuccowork depicting cherubs that hold up the cross, there are two niches: in one there's a statue of Saint Paul, in the other you find Saint Peter. The second order of the facade consists of three windows with stucco cornices. The third ends with the tympanum with a bas-relief in Carrara marble depicting the Assumption of the Virgin Mary with Saints Roch and Francis.
The church was given its current style in the 18th century, when the side chapels were added, as well as the Baroque "Macchina" of the altar, the architectural elements and decorations. Make sure you admire the vault, with images of the four Evangelists at each corner, and the Glorious Cross in the middle.
Outside, on the left side of the cathedral, there's a bell tower that was originally used for civil and military purposes. In the beginning the building only had two orders (as seen in the coat of arms of Pitigliano). A third order was added in Medici times, giving the tower its role as a bell tower.
Contact: diocesipitigliano.it
Pitigliano
THE MAGIC OF "LITTLE JERUSALEM" CARVED IN TUFF
To outsiders, Pitigliano looks like a fairytale village, jetting from striking, wild ridges and surrounded by lush valleys carved by the Lente and Meleta rivers. The soaring tuff walls, lined with myriad caves and tower houses, are nothing but the best of medieval architecture. ...
Morekeyboard_backspace
You might also be interested in