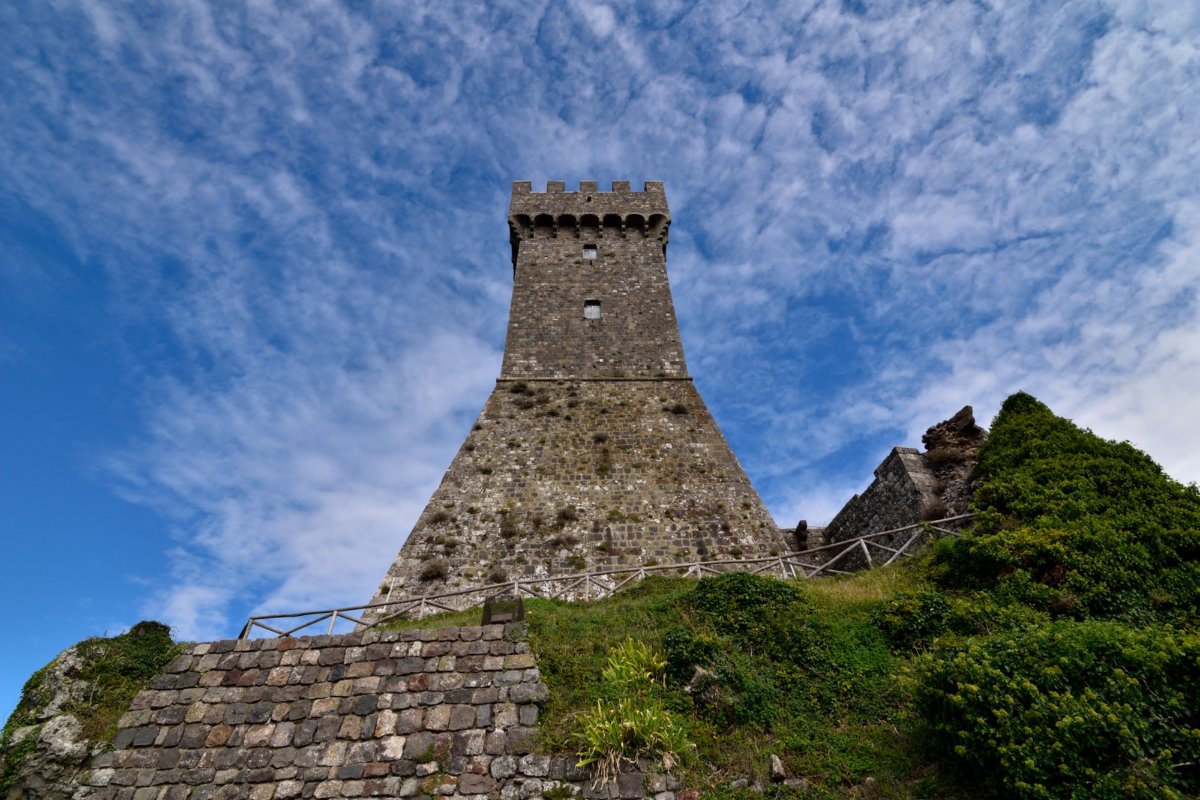 Photo ©Shutterstock.com / Di Cesareo75
account_balanceMuseums
Radicofani Fortress and Museum
Known also as "La Rocca", the stronghold has stood over the town for more than a thousand years
The imposing fortress (or Rocca) of Radicofani has loomed over the little town for more than a millennium. Built on the summit of a powerful basalt cliff 896 metres high, it was documented for the first time in 973 AD and ever since then it has dominated the whole area between Monte Cetona, the Val D'Orcia and Monte Amiata.
We know that it was the Carolingians who laid the first stone in the ninth century, but over time the fortress was contested by various powers, each of whom made it their own stronghold. In 1153 it fell into the hands of the Papal States, which saw and exploited the advantages of having a fortification on the Via Francigena. At the end of the 1400s it passed to Siena, which employed it in defence of the Sienese Republic. Once it was in Florentine hands a century later, Cosimo I de' Medici undertook a modernisation project.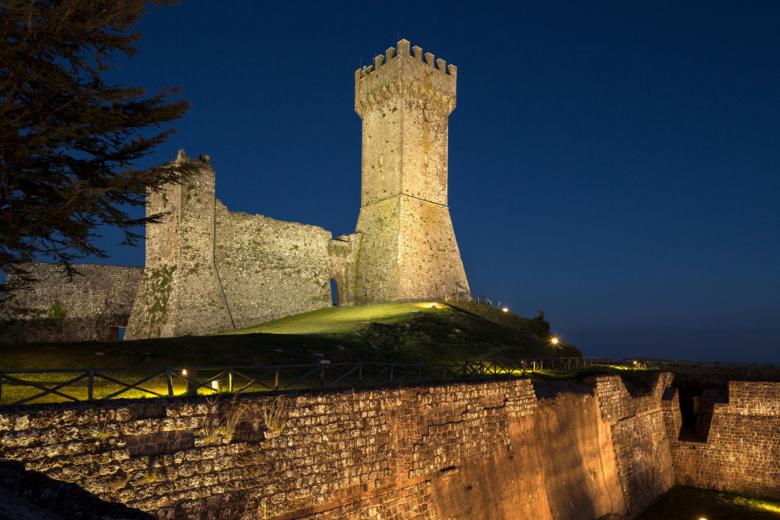 However, the castle is not so much bound to any illustrious personality, but rather to a local character, proving that history is so often interwoven with legend. Ghino di Tacco, Val D'Orcia's famous brigand, captured the castle in 1297, turning it into the centre for his raids for several years. The adventures and ambushes of this local Robin Hood, who is generally considered to have been a force for good, appear in the work of Dante and Boccaccio.
Today, the castle is home to the Museo del Cassero (Barracks Museum), which contains archaeological finds from the Etruscans right up to the sixteenth century, which tell the long history of the fortress and its various forms. You can visit the underground passageways, the shooting platforms, the bastions and the walkways on the walls, and even see a still-working medieval catapult. The surrounding scenery is spectacular, and best enjoyed by climbing to the merlons, a thousand metres above sea level: from here you can lose itself by gazing at the UNESCO World Heritage Site that is the hills of the Val D'Orcia.
Radicofani
From atop one of the most spectacular fortresses in Tuscany
On a hill at the southern border of the Val d'Orcia sits one of the most spectacular fortresses in Tuscany, for centuries one of the most important strongholds in Italy: Radicofani. The castle can be seen from dozens of miles away, and it appears to dominate the village, where it guarded the border between the Grand Duchy of Tuscany and the Papal States for hundreds of years. ...
Morekeyboard_backspace
You might also be interested in