spaRelax and wellness
Villa Borri Thermal Baths in Casciana
A spa with pools, massages and much more
The Villa Borri Thermal Baths are located in an ex-manor house from the 1700s that was elegantly restored without altering the original size and characteristics, rich in splendour, with highly innovative and exceptional elements.
A true beauty farm, the property hosts the manor house and several historical dwellings that are today magnificent residences for a demanding clientele who loves Tuscany.
The Villa Borri Thermal Baths are a small gem amongst the many possibilities on offer in Casciana's thermal territory, with its Well-Being Center and SPA, which include two covered thermal pools, a large floatation bath and a Turkish bath.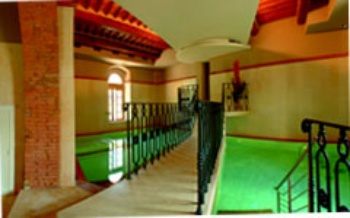 The Thermal Well-Being Center inside the villa is located within a private park, so guests can walk freely to the Center clad in a bathrobe. The treatment rooms are unique, with period frescoes and ample spaces that makes them veritable spa suites.
The adjacent building, an old olive oil mill, is today a Spa, with pools, a Turkish bath, a salt-water pool, multi-sensory showers and the old wash house.
The thermal waters at the Tuscan beauty farm come from the caldera at the Casciana Thermal Baths, known since antiquity for their intensely relaxing and therapeutic properties.
For information: www.termevillaborri.com
Casciana Terme
In the heart of the Tuscan countryside is an ancient and elegant thermal centre
Set in the beautiful Tuscan hills, Casciana Terme represents, with its more than one thousand years of history, one of those many little masterpieces that the centuries-old Tuscan people has contributed to building and preserving. Its origins are shrouded in a romantic legend that dates back to the times of Countess Matilde di Canossa. ...
Morekeyboard_backspace
You might also be interested in