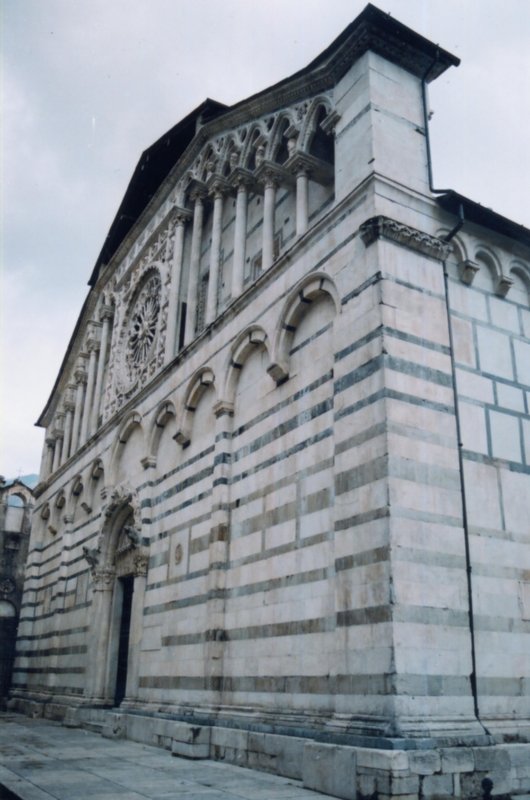 Monuments
Carrara e i suoi monumenti
Un percorso attraverso la storia della città
Entrando in città dal viale XX Settembre si incontra la "Chiesa di S. Ceccardo" con la statua del santo che indica la città, quindi la "Chiesa Evangelica" sulla sottostante via Rosselli, e sulla via Roma si trova lo storico "Vicolo della Ruota".

Più avanti si può ammirare il "Palazzo della Pubblica Assistenza", mentre sulla via Don Minzoni si hanno il "Palazzo delle Poste ed il giardino con la Fontana della Venere" opera della scultore Aldo Buttini, quindi, passati in "Piazza Matteotti" (ex Farini) oltre alle due fontane con la riproduzione del "Cavallino" di Arturo Dazzi e del "Porcellino" di Pietro Tacca, si può ammirare il "Politeama Giuseppe Verdi" (1888), coronato dallo sviluppoottocentesco della città, di fronte al quale si hanno il "Palazzo Vacchelli" e il "Palazzo ex Banca Gianpaoli".

Nella Piazza Due Giugno a fianco del "Palazzo Comunale" si alza la"ex villa Monzoni" oggi sede del Commisariato ed a lato mare la piazza è chiusa dall'edificio della CCIAA. Ritornati nella via Roma attraverso la galleria del "Palazzo degli Uffici", e risalendo verso monte la via, si giunge di fronte all' "Accademia di Belle Arti" che fa capo unico con il "Castello Malaspiniano" del XIII secolo la quale fronteggia il palazzo sede della CrC.

Dalla "piazza Accademia" lastricata in marmo si accede alla via Del Plebiscito dove ha sede l'edificio della "Biblioteca Comunale" (1771) ed il "Palazzo della Famiglia Lazzoni" identificato dal loggiato a binate colonne marmoree, e la suggestiva "Chiesa del Suffragio", oggi completamente restaurata. Sempre da piazza Accademia si accede alla via Loris Giorgi (già via Alberica) che conduce alla stupenda "piazza Alberica".

Nella via Loris Giorgi sorgono il "Palazzo Pisani" ed il "Palazzo Luciani" mentre nella storica piazza si hanno il "Palazzo dei conti Del Medico" e il "Palazzo della famiglia Diana" nella attigua "Piazza delle Erbe" del XVI secolo.

Uscendo dalla piazza Alberica verso il mare si incontra il "Teatro degli Animosi", e uscendo invece verso il lato monti attraverso il "Ponte Baroncino" si incontra il vecchio "Ospedale di Grazzano" ed il quartiere omonimo ricco di storiche edicole e lapidi. Risalendo la "Via Ghibellina" si arriva innanzi alla maestosa "ruota" del "Duomo di S. Andrea", ricco di opere d'arte, e nell'omonima piazza si può ammirare la "Fontana del Gigante" che capeggia in un angolo della piazza. Sia attraversando il "Ponte delle Lacrime" adiacente al Duomo, sia discendendo la via Finelli dalla antica (1421) "Porta della Bugia", si arriva nella "Via Carriona" e quindi nella parte Guelfa della vecchia Carrara con gli antichi quartieri del "Cafaggio",del "Baluardo" e di "Vezzala", tutti riccamente movimentati da nicchie, lapidi e antiche sculture come "il Cavallino" risalente all'epoca del basso impero.
Carrara
Don't miss Malaspina Castle and the Apuan Alps Park
Carrara has always been considered the city of marble, and for good reason. The identity of this centuries-old city—with strong ties to both the mountains and the nearby Ligurian Sea—has always had marble at its heart: the pristine stone has been extracted from area quarries since Roman times. When you hear or utter "Carrara," marble and quarries are the immediate associations. ...
Morekeyboard_backspace
You might also be interested in