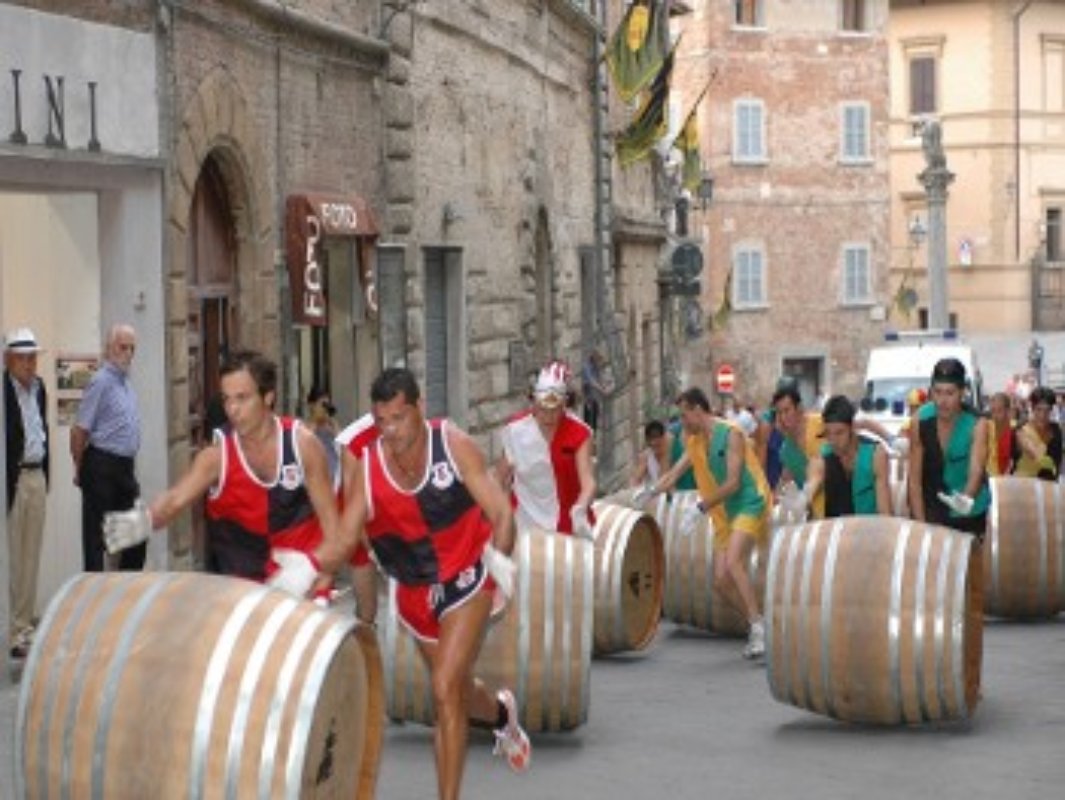 insert_emoticonFun and entertainment
"Bravìo delle Botti" in Montepulciano
Eight districts compete in traditional festival on the last Sunday in August
The last Sunday in August in Montepulciano
features the "
Bravìo delle Botti
" traditional competition that sees the eight districts—Cagnano, Collazzi, Coste, Gracciano, Poggiolo, San Donato, Talosa and Voltaia—compete while rolling 80 kg barrels up a 1800-metre hill.
The path is predefined, with eight different starting points laid out along two lines. Each district's barrel occupies its assigned position according to the drawing done that morning. Once the
bell of the Palazzo Comunale
rings, the judge gives the start signal.
The barrels are pushed by two men called "
pushers
", who wind through the historic center until they get to the finish line on the Duomo steps in Piazza Grande. The word "bravìo" is derived from "bravium" and refers to the painted cloth featuring the iconographical image of the
town's patron saint
,
San Giovanni Decollato
. The competition, which originated in 1372, takes place in his honor. It was originally run with horses but the practice was outlawed in the seventeenth century. It has been run with barrels since 1974.
The day begins on
Sunday
morning at
9am
in
Piazza Grande
with the drawing for the starting order, followed by various other ceremonies including the
delivery of votive candles to San Giovanni in the Cathedral.
At 4pm, the
historic parade
featuring
300 participants
begins
.
At 7pm the competition begins. The Bravìo delle Botti is a traditional local festival but is also the perfect opportunity to visit and learn more about
Montepulciano
.
For more information:
www.braviodellebotti.com
Montepulciano
The hamlet of Montepulciano, the birth-place of 'Noble wine'
Montepulciano is nestled between the Val D'Orcia and Val di Chiana. Built along the narrow top of a limestone hill, this beautiful medieval village seems to be the natural continuation of the landscape on which it was built. ...
Morekeyboard_backspace