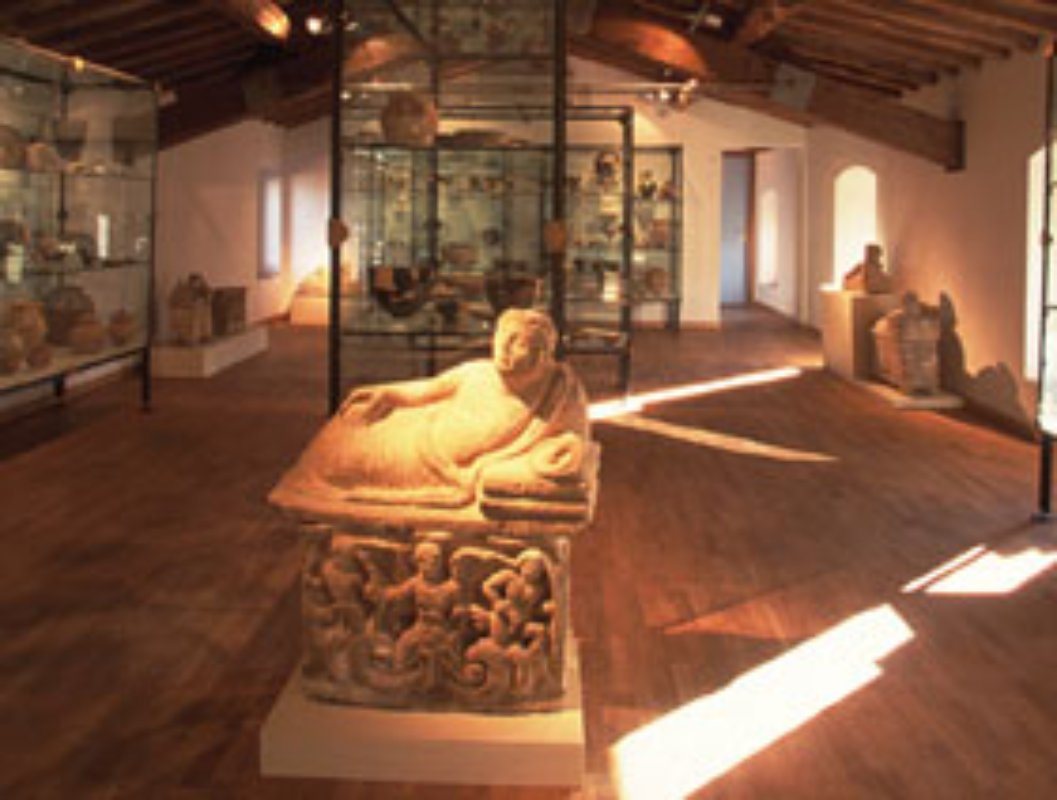 account_balanceMuseums
Archeological and Collegiate Church Museum in Casole d'Elsa
Archaeological finds and artistic works
This collection brings together under one roof objects belonging to the historical-artistic patrimony and archaeological findings recovered around the country. It is also possible to visit the adjacent collegiate church to admire the masterpiece of the fourteenth-century sculptor Marco Romano ('Il Sepolcro di Messer Porrina'), the funerary monument in honour of the bishop Tommaso Andrei by Gano di Fazio, three canvases of Rutilio Manetti and 'la Maestà duccesca' commissioned by Beltramo and Ranieri Aringhieri, housed in the family chapel.

Inside the museum, inaugurated in 1996, there are three rooms dedicated to the archaeological sector where it is possible to go back over the history of the populating of the territory in Etruscan times, starting from the earliest phases, as testified by the store of objects from the necropolis of tombs in the locality "Le Gabbra". Also the findings that emerged from the excavations carried out by the Marquis Bargagli in the second half of the nineteenth century on the estate of Querceto, subsequently passed on to the same collection, are of great importance, including two Attic bowls, one with black figures, the other with red, that are proof of the economic and cultural livelihood of this area in ancient times.

Other examples of this can be seen in the splendid bronze clasps from the locality 'La Senese', decorated with one of the oldest portrayals of an Etruscan boxing-scene. The flourishing of this centre, as with others in the area of Valdelsa, during the Hellenistic phase under the political and cultural influence of the city of Volterra, is documented by the great quantity of funerary objects dating back to this phase, characterised by the urns in tufa, produced both locally and in Volterra and the black varnished pottery from the Volterra factory of 'Malacena'.

With regard to the five rooms composing the historical-artistic sector, particularly worthy of note are the head of the bishop Tommaso Andrei by the Sienese Gano di Fazio (about 1303), an illuminated gradual by Lippo di Vanni, an altar-piece by Andrea di Niccolò, a fresco by Giacomo Pacchiarotto, painted in 1521 for the Palazzo Pretorio, and some canvases of the local painter Alessandro Casolani, one of the protagonists of the flourishing artistic movement in the sixteenth century.
Casole d'Elsa
Famous for its gently rolling hills, vineyards and olive groves
Casole d'Elsa is at an altitude of 417m and has a population of around 3000 inhabitants. HISTORY The Casole area was originally inhabited by the Etruscans. The first written evidence of the town dates back to 896 when Adaberto, a Tuscan marquis, conceded the town to the Bishop of Volterra. ...
Morekeyboard_backspace
You might also be interested in