crop_originalArtworks
Andrea del Sarto's Madonna of the Harpies
A masterwork in the Uffizi
Andrea Vannucchi, known as Andrea del Sarto (Florence, July 16, 1486 - Florence, January 21, 1530) was an Italian Mannerist painter.

Son of a tailor called Agnolo di Francesco, Andrea del Sarto (Sarto means "tailor" in Italian) started apprenticing at the age of 7 in the workshop of painter Gian Barile, who soon recognized his talent and sent him to study under Piero di Cosimo. In 1508, he enrolled in the Arte dei Medici e degli Speziali school and completed his first artworks.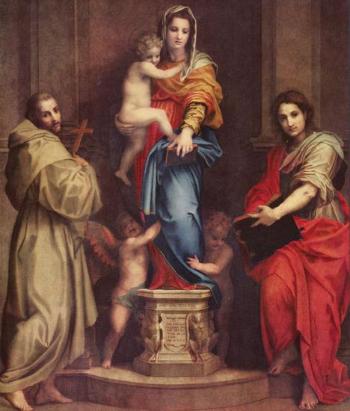 Perhaps the most famous work of Andrea del Sarto is the altarpiece he painted for the nuns of San Francesco dei Macci, called the Madonna of the Harpies (now located in Florence's Uffizi Gallery). Commissioned in 1515, the picture was supposed to depict the Madonna and Child crowned by two angels and flanked by John the Evangelist and Saint Bonaventure, and was to be delivered within a year. However, the work is dated 1517, and shows John the Evangelist and Saint Francis on either side of the Madonna and Child on a high, polygonal pedestal. The plinth is decorated with the so-called Harpies, while in the centre, beneath the artist's signature, are the opening words of a hymn to Our Lady of the Assumption. This painting is clearly not a traditional "Madonna and Child" enthroned between two saints, but a highly unusual presentation of a full-figured Virgin Mary standing on a pedestal with two cherubs holding onto her legs. The 1984 restoration re-established the rich coloring that was praised by Vasari as being "of singular and truly rare beauty". The figure of the Madonna, balancing the weight of the Child (who's hiding his smile), lights up the centre of the picture with her intense, rose-colored robe which harmonizes with the pale blue of her mantle and with the brilliant yellow of the fabric draped over her shoulders.
Florence
An astonishing city of art, fashion and tradition
If you are visiting Tuscany you cannot miss Florence. The Renaissance city is a treasure trove of art with an astonishing contemporary vibe. Beyond the extraordinary artistic heritage, a testimony to its centuries of civilization, the best way to enjoy Florence is to stroll along the riverside avenues at sunset, or to get lost among the city's myriad alleyways of the bohemian Oltrarno or the ...
Morekeyboard_backspace
You might also be interested in