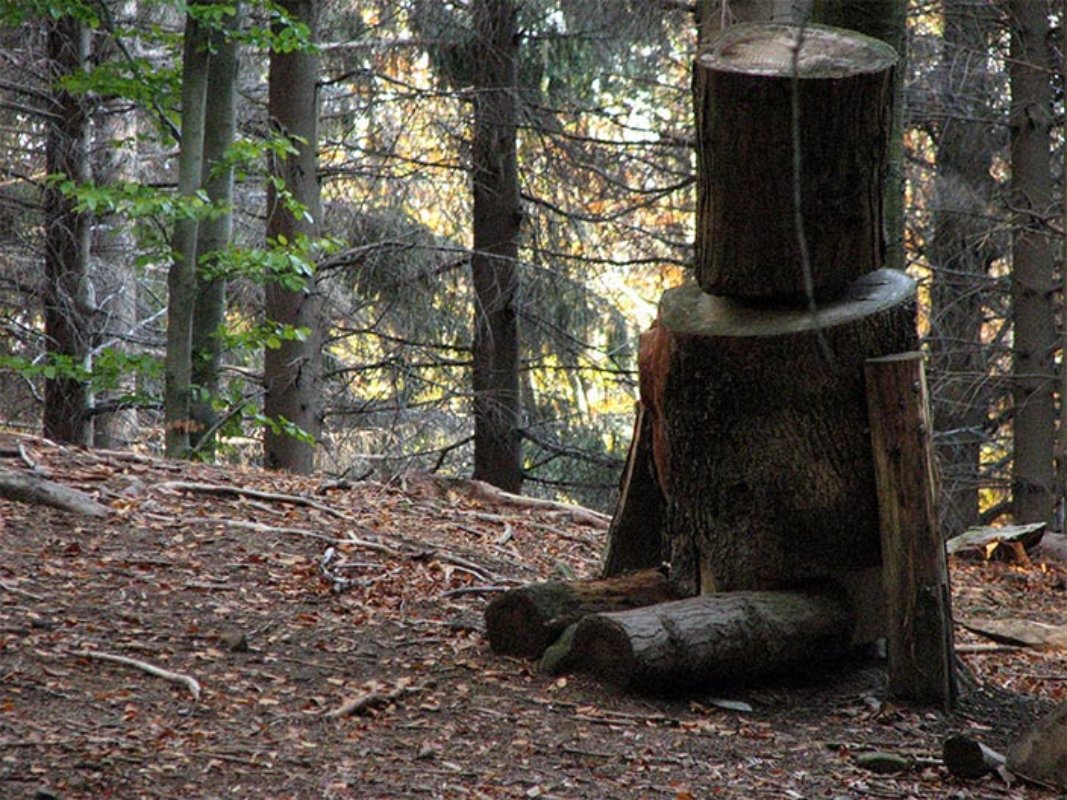 crop_originalArtworks
An installation of art by Tom Claassen
In the heart of the Acquerino Nature Reserve in Cantagallo
'Babies' (2005) by Tom Claassen is a collection of wooden sculptures in the Faggione di Luogomano, In the heart of the Acquerino Nature Reserve in Cantagallo.

This collection of sculptures was planned alongside other artistic installations made from synthetic materials and exhibited at the Centro Pecci in Prato. This particular installation was carried out in collaboration with a volunteer group from the Comunità Montana Val di Bisenzio and thanks also to the contribution of the Gruppo Consiag during the Territoria 2005 artistic initiative. This initiative involved all of the Prato province from the June 12 to September 18 2005. It created a network of places and modern works of art connected to both local industrial production and the local landscape. The artists who were invited to participate were all from Holland.

On first seeing these sculptures, they look like abandoned puppets, enormous toys left beneath an enormous tree. As with all Claassen's work, the large proportions of the sculptures works to strange effect, creating a sense of uncertainty and anxiety.

Tom Claassen's statues are what they are. It's possible to describe them precisely without taking away from the meaning behind them. A herd of elephants, a dog, a rat, a starling, a horse, a rabbit, a rhino. With their size, they take on a look that manages to reduce their sense of being animals. Instead they become statues which represent the idea that we have on animals. Their decreased animal-ness is counterbalanced by their monumentality. Tom Claassen's statues are such that the material he uses (metal, wood, polyester, sand) becomes more significant than the statues itself. The shape becomes the model for the meaning of the statue which is expressed through the materials used. The material determines the mental attitude of the statue.

With Tom Claassen, sculpture becomes another reality in which his statues are on a scale which we must simply accept. Didn't Little Red Riding Hood just see her grandmother in the wolf who lay in her bed? With Claassen there's no such fairy tale. His works find their natural place in the world. His wooden men sit as men often do, like small pieces of wood piled up in the woods. It seems that it's necessary to personally understand that it's possible to live a more essential existence.
Cantagallo
Famous for the St. Biagio church and its nature reserve
The council of Cantagallo is in the province of Prato, at a height of 423m above sea level and has a population of about 3,000 inhabitants. In the town you can admire the church of St. Biagio, from the XIII century, and the Acquerino Cantagallo Natural Reserve. The striking Cerbaia Stronghold is not far from here. ...
Morekeyboard_backspace
You might also be interested in