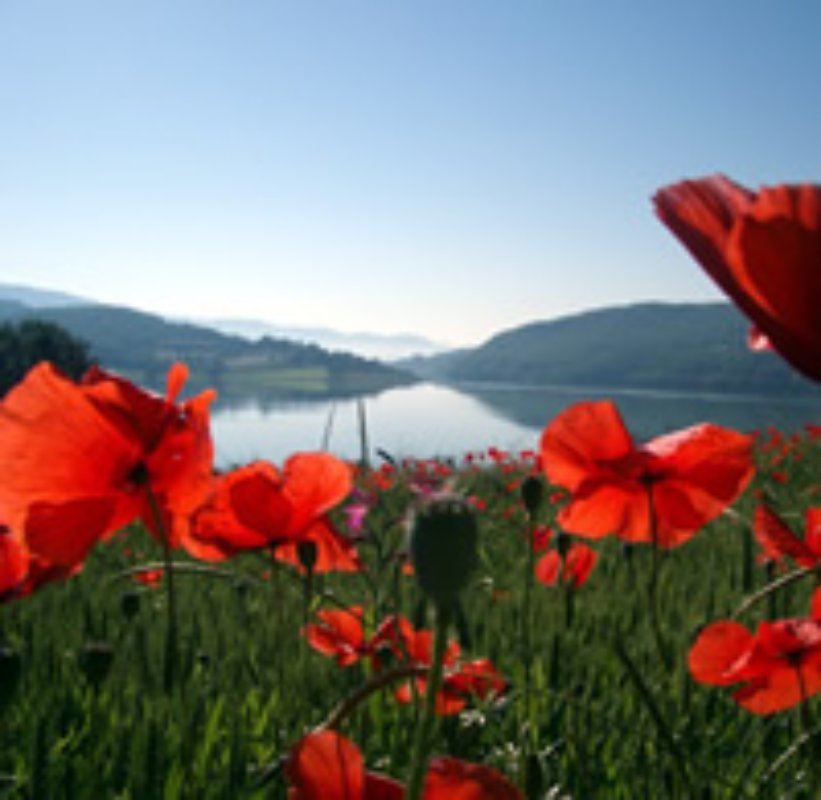 ???.icon?????????
Alta Valle del Tevere Nature Reserve M. Rognosi and B. Montalto
Experience the luscious green of the Tiber Valley
The nature reserve is located a few kilometers north of Pieve Santo Stefano and protects the mountainous back end formed by Poggio Tre Vescovi, Poggio Bastione and Monte Nero, which create the natural border between Tuscany and Emilia before running south to the Gualanciole Pass.

The first few kilometers of the Tiber River, which originates in the Emilia region near Monte Fumaiolo, run at the foot of the back of Monte Nero where it accumulates water from the Cananeccia Torrent. Almost the entire reserve is covered by a wooded area punctuated by breaks of lush green fields. The property is owned by the Regional Agricultural Forest Patrimony and managed by the Valtiberina Toscana Mountain Community. The entire area has maintained a high level of unspoiled naturalness.

There are three small villages located in the area—Valsavignone, Castellare and Cerignone—all ancient defensive centers from the late Middle Ages. There are a few farmhouses sprinkled around the area, including Le Gualanciole. Because of the unspoiled quality of the surroundings, the ample woods and the nearly inaccessible rocky area, the reserve boasts an ideal environment for large predators including wolves and bald eagles. The area's fauna is further protected by the Oasi di Protezione Faunistica entity, managed by the province of Arezzo.

Naturalistic routes

CAI Trail n. 059
This trail, which originates in the Valsavignone, takes hikers to the Gualanciole Pass

CAI Trail n. 091
Connects the town of Canili, on the Strada Tiberina, with the crest.

Ippovia
The Reserve is crossed by the Ippovia circuit that goes all the way to the Sasso di Simone from the Casentino. There is a rest stop for horses at Le Gualanciole.

Grande Escursione Appenninica
The circuit goes towards the Poggio Tre Vescovi and Monte Nero; here the GEA coincides with CAI Trail n. 50, which crosses the Reserve and connects it with La Verna.

Disabled access: no
Qualified visitors' center: no
Alternative personnel: no
Means of transportation: no
Specific trails: no
Other accessible trails: no
Altitude: hilly, mountainous
Welcome center: no
Anghiari
A striking medieval town nestled in the quietude of the Tiber Valley
Anghiari is a striking medieval town hugging the slopes of the Sovara torrent and the Tiber Valley. Its name is famous for a 1440 battle, fought on the plain in front of the town and depicted by Leonardo da Vinci in a legendary fresco lost somewhere in Florence's Hall of the 500 in the Palazzo Vecchio. ...
Morekeyboard_backspace
You might also be interested in