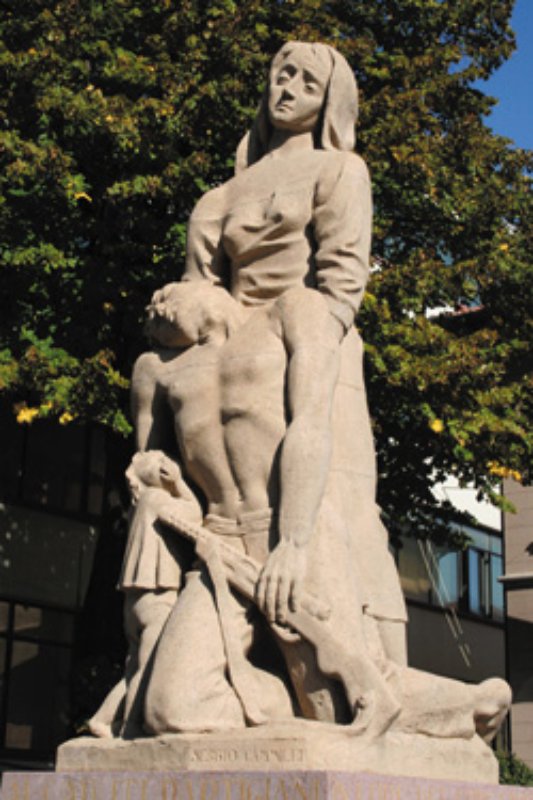 Monuments
Agliana's Monuments
The city's traditions explained
The center of Agliana boasts three monuments, each important for their ability to communicate the values of the past and to not forget the heroic acts by those who sacrificed everything for their country. The area was an important center during the Liberation and has served as a passageway for some of the most important people in sports. It is a cultural area that is constantly evolving while maintaining its roots.

Monument to the Fallen
On April 25, 1946, a monument was erected in remembrance of the sacrifice on the part of the partisans who lost their lives in the fight for freedom. The cement piece was created by architect Sergio Cammelli. A figure rises from the pedestal holding a dying man, signifying Pieta'. A woman grasps a baby dressed in a short tunic with bare legs stifling his cries with a hand over his mouth. On each side of the pedestal are the names of the fallen heroes and a short text exhorting us not to forget their heroic acts. Thanks to the Cassia Way, the principle route connecting Lucca, Pistoia and Florence, the city began to develop and its strategic position made it one of the bases in the partisan fight in the Pistoia mountains. In fact, the partisan formation that freed the city in 1944 was named after Agliana.

Monument to Fausto Coppi
Lindo Meoni created a bronze statue in honor of the great Italian cycling champion, Fausto Coppi. It has stood outside the soccer stadium since the beginning of the 1990s. Coppi was an important personality in the sporting world and as a person; he always respected his famous rival, Gino Bartali. The photo taken of the two champions sharing a bottle of water during the 1952 tour is unforgettable. Coppi epitomized the sport of cycling. The statue depicts the cyclist with his beloved bicycle while riding with all of the passion that only he knew.

Piazzetta delle Erbe—Monument to Farmers
This monument, found in Piazza IV Novembre, reminds us of the importance of the city's rural past.
Agliana
Happy hamlets and natural reserves in the Pistoia plain
Agliana, with its distinctive quadrilateral shape edged by the Bure, Calice, Ombrone and Brana waterways, is brought to life by the hamlets of Spedalino, San Piero, San Niccolò and San Michele, as Agliana is none other than a name for the grouping of villages. The main attraction is the Spedalino Asnelli, once an important hospital complex and now a lively village on the plain. ...
Morekeyboard_backspace