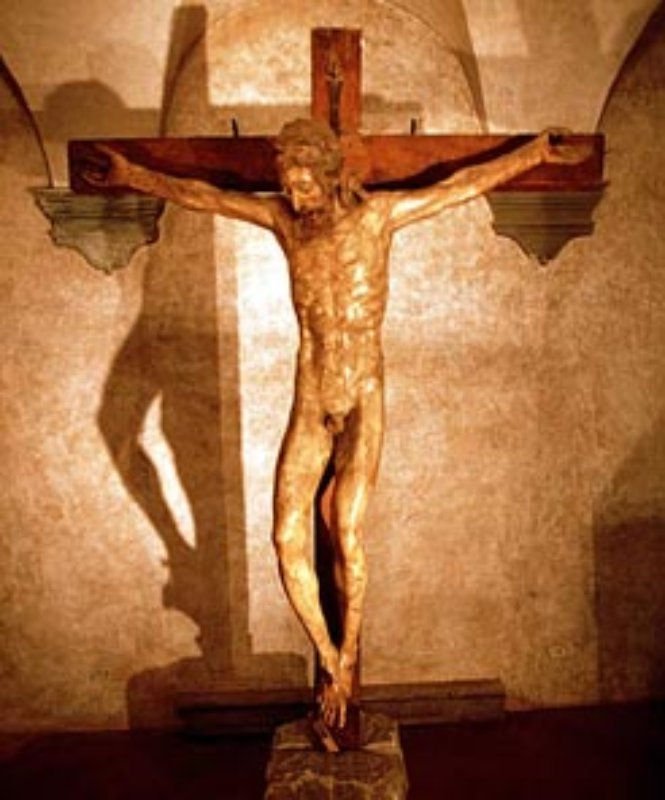 crop_originalArtworks
A wooden Christ by Donatello in San Piero a Sieve
A powerful work of art which caught the attention of Brunelleschi
The convent, built by the Ubaldini family in 1000, was bought by Cosimo il Vecchio de' Medici who commissioned Michelozzzo Michelozzi to renovate it. The architect united the charecteristics of the Renaissance style with the traditions of the medieval architecture. He included ribbing, vaults and frames in the choir which make clear late-gothic references, while the cloister, dining hall and in the nuns' cells are distinctly Renaissance.
The Christ by Donatello is kept in the convent's small museum of sacred art. Donatello has shown Christ just moments after his death, with his mouth parted and his eyes half closed, the pupils fixed. The nude figure clearly shows signs of beating and is almost skeleton-like and the figure is clearly tensed in death. Vasari recounts that when Brunelleschi first saw Donatello's crucifix he said "You placed a peasant on the cross".
San Piero a Sieve
The ancient village of San Piero a Sieve was developed around the ancient parish of St. Peter from the XI century
This town's most splendorous period corresponds to the Medici domination of this terrain: in fact, the construction of the stupendous villas that are to be found scattered throughout the Mugello territory, are owed to this family. ...
Morekeyboard_backspace
You might also be interested in